Youth matters
Gauteng talks technology to the youth
Lerato Mailoane - Gauteng Provincial Government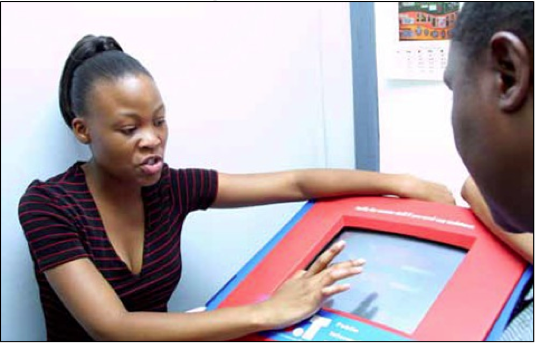 Photo caption: An assistant at the Thusong Service Centre in Soweto explains the new online service where young people can access government information
The Gauteng Provincial Government is living up to its status as the "smart province" by using technology to communicate employment information to young people.
You cannot communicate with the youth and technology-savvy young people without engaging with social media platforms, said Gauteng Premier Nomvula Mokonyane. "The Office of the Premier is now active on Twitter and Facebook – where we are getting a lot of feed- back from our communities on how to better serve them," she said.
Roadshows
To this end, the provincial government is rolling out phase 2 of the e-Recruitment model, which includes electronic shortlisting, SMS notifications, report generation, an advertisement library, and an electronic and searchable database.
Those who cannot afford to access information online need not despair; the province will also engage with young people through youth consultations in all five metro and district areas. Mokonyane said the province is also planning an economic opportunities roadshow and is presenting programmes at the youth employment hubs.
In addition, other media platforms such as the provincial newsletter, Gauteng News, will be used to reach young people. "We will also ensure that we increase our communities' participation in government programmes and plans by intensifying our open days at Thusong service centres across the province," she said.
These steps will help the province to spread awareness of programmes such as the Youth Entrepreneurship Development Programme (Y-Age), which was launched in October last year. This programme seeks to recruit, select, train and fund new business ventures to create up to a million jobs in three years.
Jewellery skills
The Department of Economic Development will also work with the private sector to facilitate job creation and to finance BEE, tourism ventures and small businesses.
According to Economic Development MEC Qedani Mahlangu, her department, in cooperation with the University of Johannesburg, is working with a Swiss company, Watches of Switzerland, to establish a school that will offer training in the design of watches. Plans are already in place to send a group of young people to Italy in September to be trained in jewellery manufacturing skills. This programme is linked to the jewellery manufacturing precinct that will be based at OR Tambo International Airport.
To help young people apply for jobs in government, the province has also launched the Professional Job Centre at the Thusong Centre inside the Maponya Mall in Soweto. This brings government recruitment closer to the people in a popular shopping mall that attracts thousands of young shoppers.
For more information, call the Gauteng Department of Economic Development: 011 355 8000