Safety and security
Reading their rights in Braille
Sinenhlanhla Mkhwanazi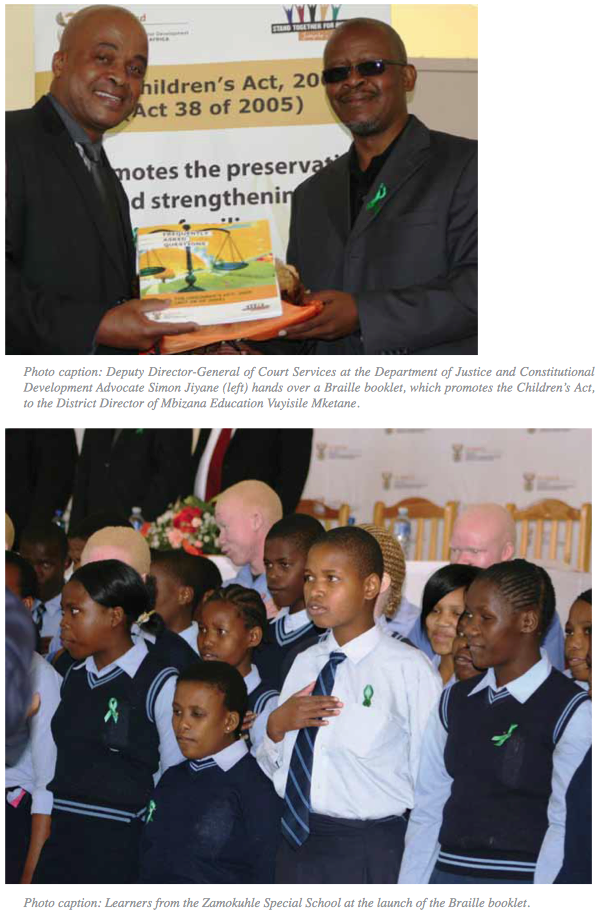 This year's Child Protection Week presented an ideal opportunity for the Department of Justice and Constitutional Development to launch its first ever Braille booklet which promotes the Children's Act. It is aimed at raising awareness of children's rights among visually impaired and partially sighted children. Parents and the community of Mbizana in the Eastern Cape attended the official launch of the Braille booklet at the Zamokuhle Special School.
The school has 30 blind and 135 partially sighted students. In the past few years, the school had a high matric pass rate, achieving a 100 per cent rate in 2009.
"What the department has done shows that they really care about us and this is also a testimony that we are not forgot- ten," said the principal of the school, John Aracaermpil.
Sifiso Njilo, a learner from the school, was the first to be chosen to read from the booklet for guests at the event. "I am so happy to be the first learner to read this booklet and I think it will be very useful to us," an excited Sifiso said.
Guests who attended included members of the judiciary and officials from Mbizana Local Municipality, the departments of social development and of basic education and, the South African Police Services and the National Prosecuting Authority. Learners entertained them with Xhosa traditional dances and performed a drama depicting child abuse and how the court could help an abused child to find a better home.
The Braille booklet provides information and answers various questions for children, including those relating to sexual abuse, where to find children's courts, what matters can be taken to children's courts and what is a Foster Care Order? The booklet consists of written responses in plain language.