Know your Minister
France names knight in farmer armour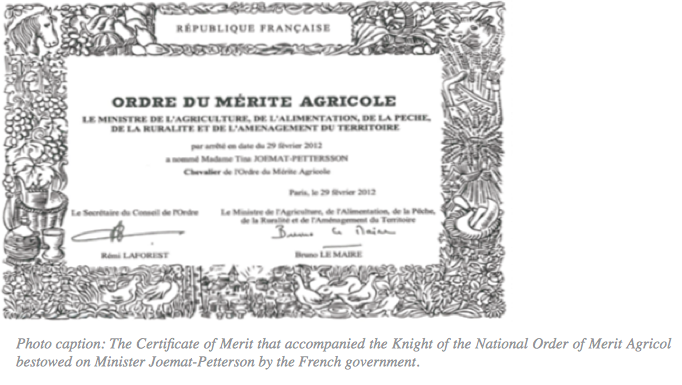 Next time you meet Tina Joemat-Pettersson, Minister of Agriculture, Forestry and Fisheries, you might want to give her the royal treatment.
This is because the government of France has bestowed on her the impressive title of Chevalier de l'Ordre du Mérite Agricole, meaning Knight of the National Order of Merit Agricol. The French Minister of Agriculture, Food, Fisheries and Rural Policy Bruno Le Maire conferred the title on her in recognition of "the services she has rendered to agriculture".
The Minister is no stranger to awards. Last November she was named the best Agriculture Minister in Africa at an award ceremony hosted by Africa investor (known as Ai), a leading international investment research and communications group .
These awards acknowledge the Minister's pioneering role in turning South Africa's agricultural sector around.
More jobs
Minister Joemat-Pettersson has wielded her shining armour to help find more markets for the sector and to enable rural communities to engage more productively in small-scale farming and develop skills in the sector.
South Africa exports agricultural produce to new markets such as China, South Korea and Indonesia and has expanded its exports to other African countries.
Under the stewardship of Minister Pettersson, employment in the agricultural sector has increased by 8,8 per cent.
During her Budget Vote Speech in the National Council of Provinces in June, Minister Joemat-Pettersson announced that jobs in the agricultural sector had increased by 31 000 over the second half of 2011. In the first quarter of 2012, employment in the sector increased by a further 26 000.
Doubled value
"Since 1994, the value of our agricultural ex- ports has approximately doubled, after adjusting for inflation. With rare exceptions, agri-food exports exceed imports by a sizeable margin, meaning that agriculture makes an impressive contribution to South Africa's overall trade balance", Minister Joemat-Pettersson explained.
To support subsistence, smallholder and commercial producers, the Department of Agriculture, Forestry and Fisheries is implementing the Comprehensive Agriculture Support Programme (CASP).
According to the Minister, R2,6 billion was allocated and transferred to provinces to implement CASP for the period 2009/10 and 2011/12. This money was used to implement 2 863 projects countrywide, reaching 78 842 beneficiaries.
"These projects supported the entire spectrum of agricultural products by improving or providing required infrastructure for production and providing targeted training for beneficiaries. During the same period, 677 new extension officers were recruited country-wide", the Minister said.
To date, 818 officers have registered with local universities for undergraduate degrees up to doctoral level. In addition, 36 586 farmers received accredited and non-accredited training on agricultural production and this resulted in the creation of 20 500 jobs.
Since 1994, the value of our agricultural exports has approximately doubled.... – Minister Tina Joemat-Pettersson