The Mid-Term Review: taking stock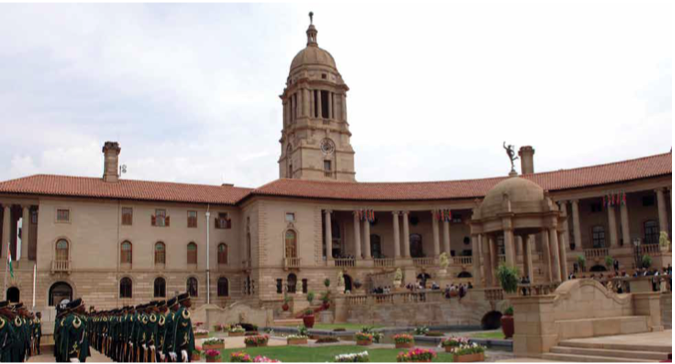 Since the 2009 elections, government has provided increasingly more people with services to improve their lives.
This is according to a study of the work done by all levels of government carried out by the Department of Performance Monitoring and Evaluation (DPME) in the Presidency.
Called the Mid-Term Review (MTR), the study looks at the work performed by various arms of government halfway through its term, which ends in 2014.
The DPME has been monitoring work done by government departments and reports quarterly to Cabinet and the President.
Minister of DPME, Collins Chabane says the review focuses on government's progress against the delivery agreements for the 12 outcomes. "The outcomes are focused on national priorities such as education, health, crime and corruption, jobs and rural development."
Although the MTR is a high-level document that does not comprehensively cover every single aspect of government's work, it is fairly detailed. We highlight some of the achievements notched up since the 2009 elections.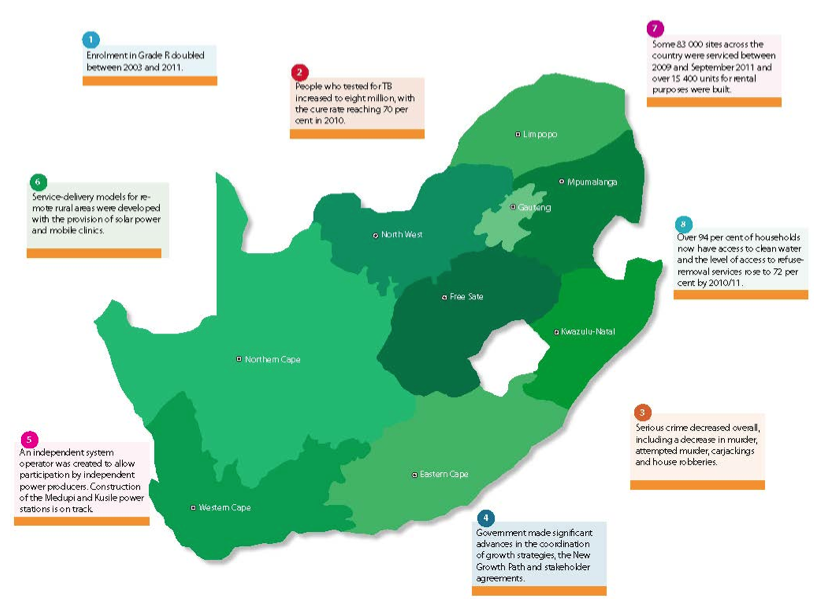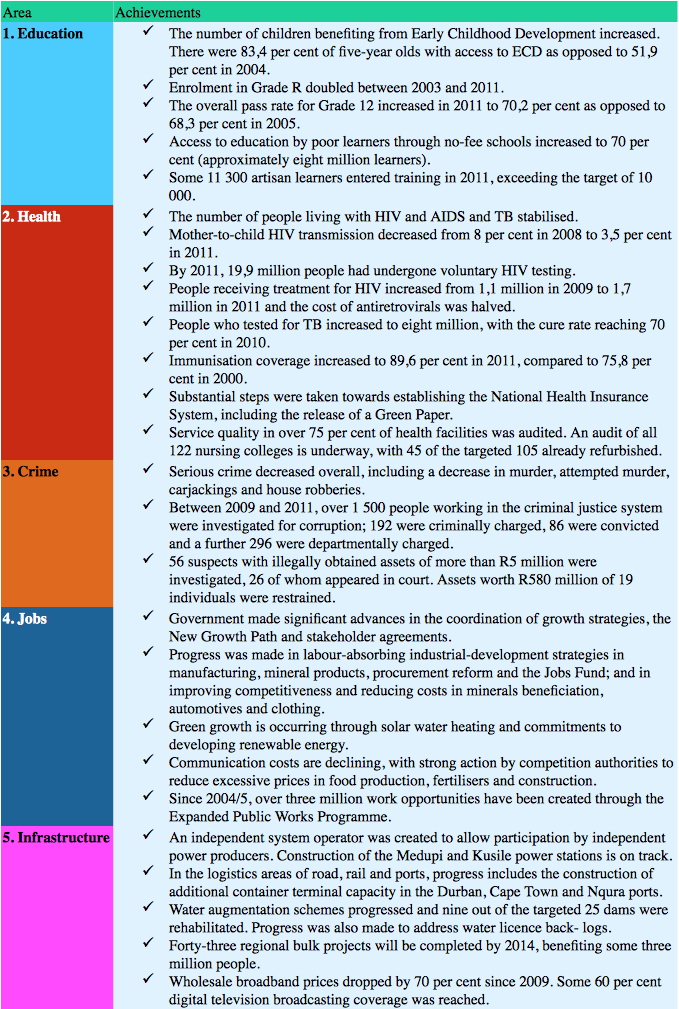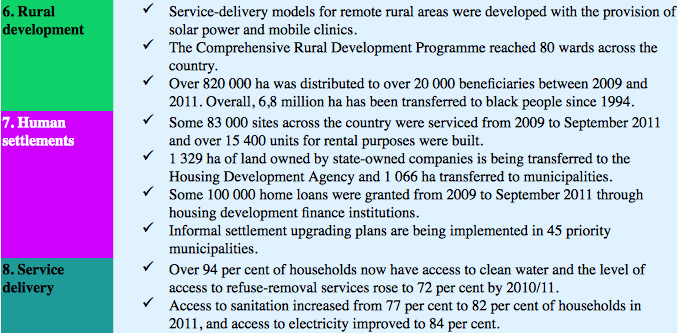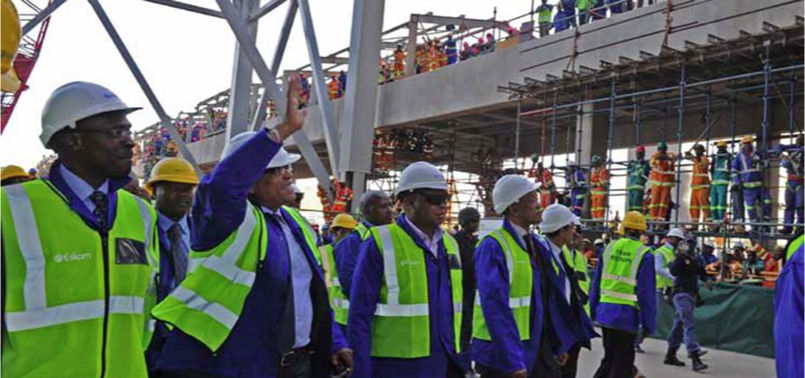 Photo caption: Public Enterprises Minister Malusi Gigaba, President Jacob Zuma, Limpopo Premier Cassel Mathale, and the then Deputy Minister of Public Enterprises Benedict Martins at Medupi Power Station in Limpopo during a hydrostatic boiler pressure test.
On the Public Service
The review noted that from 2007 to 2011, more people have been getting services from government departments a lot quicker. Some examples are:
■ identity-book applications: reduced from 127 days to 45 days
■ small business applications for funds to the South African Microfinance Apex Fund: reduced from 107 days to 70 days
■ small business applications for funds to the Industrial Development Corporation: reduced from 60 days to 51 days
■ processing new social-grant applications: reduced from 30 days to nine days
■ applications for prospecting rights: reduced from six months to three months
■ applications for mining rights: reduced from 12 months to six months
■ South African Police Service (SAPS) reaction times for reported serious crimes in progress: reduced from 50 minutes to 18 minutes
■ SAPS reaction times for serious crimes that had already occurred: reduced from 75 minutes to 24 minutes
■ processing of payments to service-providers: reduced to 30 days.
In addition, the overall compliance rate across all national and provincial departments for putting in place service delivery standards for 2009–12 is 78 per cent. The drive to get senior managers to submit signed performance agreements is currently at 83 per cent compliance but this must reach the 100 per cent mark to tighten performance management.
Also, the recent findings of the Auditor-General show that of the 40 national departments, 74 per cent received a finding of unqualified in 2010/11, an improvement from the 66 per cent in 2009/10 – but this must continue to receive attention.
Key skills shortages were also identified in the review, as was the need for stronger use of ICT and dealing with disciplinary issues. "We have made great progress in a number of areas, but much work still needs to be done," said Minister Chabane.
"We know that it will take time and perseverance to achieve the culture change that we are looking for. It will not happen overnight. South Africa is not unique in this regard
– many countries are grappling with the same challenge of transforming their ad- ministrations so that they are both capable and developmental and we are engaging in discussions with other countries to share experiences,"