Know your Minister
Helping women feed the nation
Thomas Thale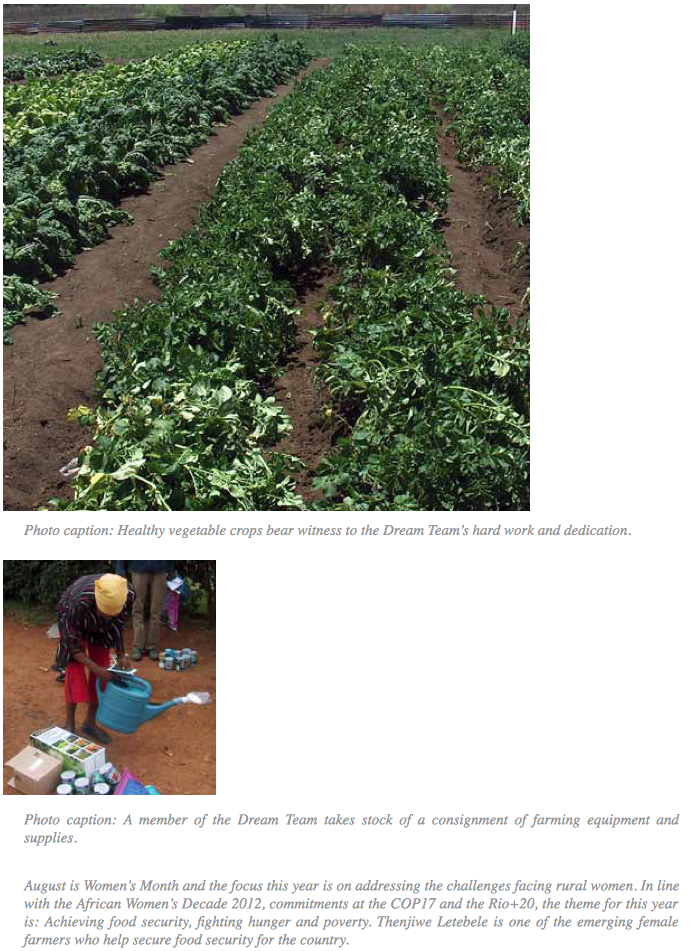 When Thenjiwe Letebele retired from Jet Stores in 2002, she used her pension payout to buy a farm in Oudedorp, 10 kilometres outside Potchefstroom in North West. In her 20 hectares plot, she planted green peppers, carrots, green beans and pumpkins.
She also built a broiler to raise 200 chickens, and was soon supplying vegetables and chickens to locals and the nearby Overland supermarket.
Demand for her products grew and within six months, she approached the Department of Agriculture, Conservation and Environment in the province to help grow her business. The department helped her by building a broiler house that holds 1000 more chickens.
Dream team
Business continued to grow and in 2006, she joined up with four others to form the Dream Team Cooperative. The cooperative is made up of three women, one man, three youths and one disabled person. With growth came more resources and, in 2008, the Department of Agriculture in the province gave her two extra broiler houses that hold 2000 chickens each plus three vegetable panels.
Today, the cooperative supplies vegetables to the local Fruit and Veg, and to Overland, a local supermarket. The cooperative also sells vegetables and chickens to members of the public.
Letebele is one of the heroic women who help provide food security for the country. Food security is a huge global challenge, and women are increasingly recognised for their crucial contributions in agriculture and rural enterprises in all developing country regions, as farmers, workers and entrepreneurs. South Africa is no exception. Worldwide women produce more than half of all the food that is grown, and in Africa it is 80 per cent.
Victor Motlogelwa, Deputy Director of Field Services in the Kenneth Kaunda district of North West says that women comprise half of the 1 500 farmers who receive help from the department. "This includes commercial, emerging and subsistence farmers. We give them agricultural support. In the majority of cases, people simply need technical advice on crops, chickens, livestock or piggery. Some need to venture into the business for the first time. We put them in touch with people who have expertise in that area, such as the Agricultural Research Centre, the Pork Producers Association or economists based in Mahikeng."
Motlogelwa describes the Dream Team Cooperative as "the best performing group in our area."
Local Development Centres
In the current financial year, the department has funded 21 farmers in the district.
Motlogelwa says farmers who need funding should go to the Local Development Centres to apply.
"We first do an analysis of their project and help them draw up a business plan, which we send to our economists in Mahikeng as a concept document. The decision on who gets funding is made by a committee that sits in Mahikeng to adjudicate applications from all districts in the province."
Letebele is one of the farmers who passed the test. She is jubilant about her achievement. "This farm has enabled me to help unemployed people. I have four permanent staff members. We also employ casual workers for harvesting," says Letebele.
For more information, contact the North West department of Agriculture: 018 299 6648