International relations
New champion for African unity
Chris Bathembu and Thomas Thale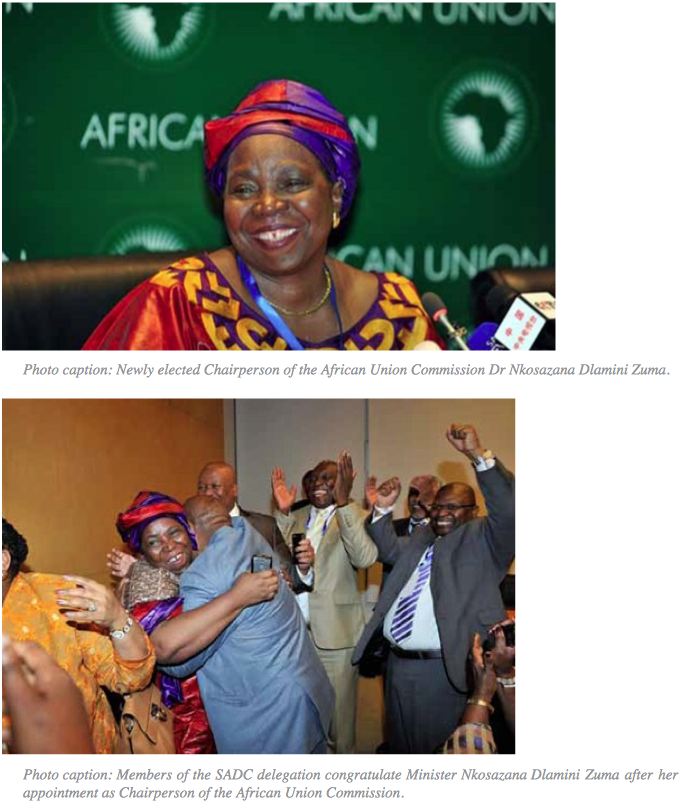 In October, Home Affairs Minister, Nkosazana Dlamini Zuma will pack her bags and head for Addis Ababa, where she will be based for the duration of her four-year tenure as Chairperson of the African Union Commission (AUC).
In this important position, she will be the engine that makes the AUC work. In view of the work she has done in turning around the Home Affairs department and her previous superb record in the Ministry of International Relations and Cooperation, many South Africans were not surprised that 37 African Heads of State and Government decided that she was fi to lead the AUC.
The commission is the secretariat of the Pan African Parliament, responsible for implementing the decisions and policies of the AU, proposing legislation and for the daily running of the AU.
The commission is a huge structure, with nine directorates headed by different commissioners. These are Peace and Security, Trade and Industry, Rural Economy and Agriculture, Infrastructure and Energy, Political Affairs, Economic Affairs, Human Resources, Science and Technology, Legal Counsel and Social Affairs.
Minister Dlamini Zuma thus has her work cut out for her. She was not victorious after being elected Chairperson, but chose her words carefully.
Taking the continent forward
"I believe no one individual can make a difference. I believe even in my own ministry that I'm as good as my team, so it's very important to develop and to have a team spirit so that you can rely on your team. Yes, I'll be a leader of a team, but I'll be as good as my team".
She reached out to all AU member countries, including the outgoing chairperson, saying she would draw on his counsel. She is conscious that to lead the organisation effectively, she will need the cooperation of the entire continent.
"I am aware that I shall only be able to dis- charge this responsibility by working with all member states and the talent that exists in our continent."
Taking the continent forward
Describing what she aims to achieve at the helm of the AUC, Minister Dlamini Zuma humbly stated that she would, "continue to build on the work of those who came before us and we will continue to work with regional bodies around the world, the UN and all its agencies, including all our cooperating partners to ensure they can contribute in helping us to achieve our collectively defined priorities.
"… Africa must therefore take its rightful place among nations of the world as an equal reliable partner, and full member of the international community", she added.
The AUC was set up to work for the common good of the AU as a whole. Aware of this, Dlamini Zuma said, "I think what is important now is to say we are here to unite around the programmes and see how we can implement those programmes united towards a common goal together. My view is that I'm an African citizen, I am loyal to the African Union and I will serve the African Union."
As a first female chairperson of the AUC she was complementary to the AU for opening up opportunities for women.
"I would like on behalf of all the women of our continent to thank the heads of state for putting women for the first time in this position and also to say the work only starts now. I will need a lot of support from all my sisters and brothers.".