Health
HCT campaign a first for the farming sector
Howard Kgoa - Department of Health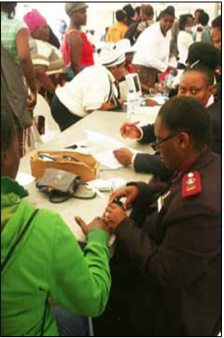 Photo caption: Farm workers are tested for HIV at Rashoop Skietbaan near Brits in North West.
Rashoop Skietbaan, some 10 kilometres north of Brits in North West, is surrounded by bustling farms that supply fresh agricultural produce to Brits and to places as far away as Pretoria, Vereeniging and Johannesburg.
Farmer Christo van der Merwe says they supply vegetables, dairy and meat products to these areas every week, thanks to an "army of dedicated workers".
Van der Merwe is passionate about the provision of health services to his employees and has therefore made special efforts to transport them to be tested for HIV and AIDS on a regular basis. He also regularly attends meetings and outreach programmes called by the Department of Health.
"I want the department to bring in mobile clinics at least twice a week so that the farm workers do not have to travel far for medical help. It is costly for them and also, the production suffers in the process."
He said there were more than 2 000 people working on farms around Brits. Van der Merwe and other farmers in the area were therefore delighted when Minister of Health Dr Aaron Motsoaledi, launched the first ever farming sector HIV Counselling and Testing (HCT) campaign at Rashoop Skietbaan in July. Over 1 000 farm workers from across Brits ar- rived at the venue to test and seek information on health matters in general.
After successfully spearheading HCT campaigns in other sectors such as mining and education, it has been the Minister's expressed wish to launch the campaign for farm workers.
Access to treatment
According to the Medical Research Council, HIV and AIDS is the largest single cause of death in South Africa. The farming sector has to deal with additional challenges, including inaccessibility of farms, high illiteracy rates and lack of basic services.
According to the NGO AgriAIDS, 39,5 per cent of South Africa's half a million farm workers are infected, which is well above the national rate of 18,1 per cent.
The department will provide HCT services in public and private facilities, including homes, workplaces and public spaces. The campaign ensures that people have access to treatment and care, as well as support for living with HIV and AIDS. HCT campaigns provide:
• mass access to voluntary HIV counseling and testing
• information, education and mass mobilisation
• detection and management of sexually transmitted infections.
Healthy living
One of the farm workers, Simon Rakudu, who attended the event, said he was very happy about the campaign. "I want government to conduct outreach programmes in farms so that they can understand the conditions of the farm workers, particularly on health matters." Speaking at the launch, Minister Motsoaledi told farm workers that the campaign would open doors to healthy living. "… When you go for testing, you will also be tested for other lifestyle diseases such as hypertension, diabetes and cancer." However, the Minister added it was disheartening that South Africa was the highest consumer of anti-retrovirals.
Urging farmworkers to get tested, Minister Motsoaledi said, "Know your HIV status, so that if you are negative, you remain negative, and if you are positive, you go to your nearest clinic or hospital for help."
Typical of a leader who leads by example, Minister Motsoaledi, soon after finishing his speech, dashed to the testing booths to be tested himself.
It is hoped that farm workers as the back- bone of the economy, will heed the message and test for HIV.