Rural development
Sediba residents reclaim their dignity
Writer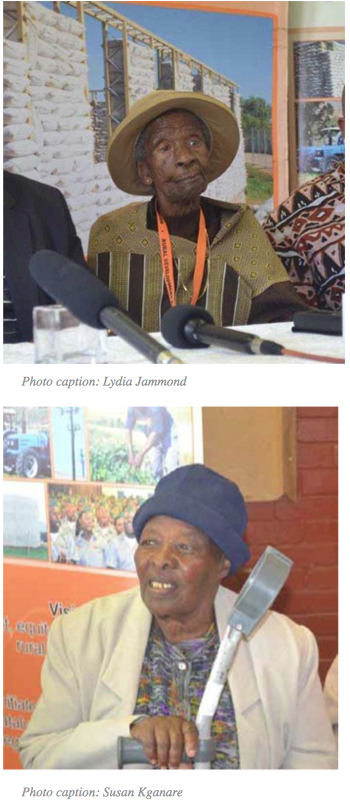 "We have finally been given our freedom back after suffering for so many years," said an overjoyed Sediba resident after the community received a land settlement cheque at a special ceremony recently.
Rhe dignity of 511 families from the Sediba community of Thaba Nchu in the Free State was restored when they became the beneficiaries of land claim. The families received financial compensation for their land from the Minister of Rural Development and Land Reform, Gugile Nkwinti, during a hand-over ceremony in Thaba Nchu.
Handing over the cheque to the value of R42 million, Minister Nkwinti said 511 households would benefit from this financial settlement. "This compensation is in line with the ethos of the provision of the restitution of land rights," he added.
The settlement celebration was also attended by the Deputy Minister of Rural Development and Land Reform, Lechesa Tsenoli, Free State Premier Ace Magashule and various MECs from the Free State.
Reserves
Sediba Reserve is one of three reserves in the Free State that were established in terms of the Native Land Act No.18 of 1913. The others are Thaba Nchu Reserve and Witsieshoek Reserve.
Outside these reserves blacks could not buy or rent land and neither could they acquire the right to land inside the reserves.
The Sediba Reserve claim was lodged by Mr Tau Meshack Motsalane on behalf of the Sediba community on 27 February 1997.
The claim was accepted and gazetted by the Regional Land Claims Commissioner for the Free State and Northern Cape on 19 October 2007.
Minister Nkwinti said this was the second phase of financial compensation for the Sediba communities. "The first phase saw 219 house- holds sharing R18 million. The third and final phase is coming and will see 500 households sharing R60 million."
Since 1998, 300 land claims had been lodged in the province. Minister Nkwinti reminded all claimants to provide the traditional council with identification documents in order to receive payment.
Recipients could not hide their delight and gratitude when the Minister handed over their cheque."We thank government so much," said resident and claimant Susan Kganare, 68. "We have been through a lot. The apartheid regime made us suffer in a terrible way."
Wishing to share her experience with today's youth, Kganare urged the youth to take education seriously. "No one is going to make it in this lifetime without being educated. Our children must be aware that without education you are nothing."
Kganare said they would use the compensation to ensure a better future for their children. "With this compensation we will take our children to school and make sure that they get a good education so that they can become future leaders."
Another claimant, Lydia Jammond, who was born and bred in Sediba, said, "I thank government a hundred-fold for the changes that have been made…"
A joyful Jammond added, "It is a great day for me, I am so excited, but it is also painful because this thing is happening to us at a very late stage of our lives; most of my contemporaries have passed on, but I'm fortunate, at least I can see these beautiful things our government is doing for us…"
We thank government so much. We have been through a lot. The apartheid government made us suffer in a terrible way. – Susan Kganare
For more information, contact the Free State Regional Land Claims Commissioner Tel: 051 403 0700; Fax: 051 430 3930 Address: SA Eagle Building 7th Floor, 136 Maitland Street, Bloemfontein 9300. Postal Address: PO Box 4376, Bloemfontein 9300.