Education
Higher education funds go higher
Gabi Khumalo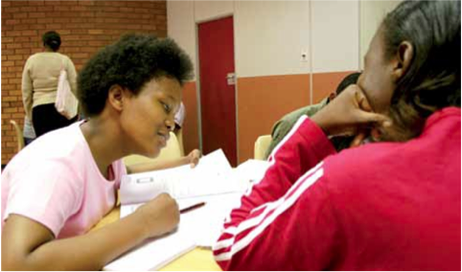 Photo caption: Many FET college students who perform well academically will no longer have to pay tuition fees.
Many tertiary students from poor backgrounds struggle to keep up their studies due to increasing tuition fees.
However, this will soon change as Minister of Higher Education and Training Blade Nzimande has promised that funding for poor students and those who perform well academically will continue to grow every year.
Minister Nzimande was speaking at the recent COSATU Education and Skills Conference on "Critically engaging the current education and training landscape: government's transformation agenda."
Easing the burden of the poor
According to the Department of Higher Education and Training, funding grew from R2,375 billion in 2008 to R6 billion in 2011. Many Further Education and Training (FET) college students, who would normally have qualified for a loan from the National Stu- dent Financial Aid Scheme of South Africa (NSFAS), now no longer have to pay fees and in many cases, they can also get their accommodation or transport subsidised.
The department has to date put in place a number of initiatives costing billions to alleviate the burden of fees from poor parents and students. "Loans and bursaries administered
by NSFAS have been expanded substantially over the last three years and this has contributed immensely in assisting academically deserving and poor students," the Minister said.
He said he was fully committed to the introduction of "fee-free" education for the poor becoming a reality sooner rather than later, as well as improving the living and learning environments for students at higher education and training institutions. Ways of addressing these challenges are being explored by the funding review committee.
However, the Minister emphasised that tuition fees charged by higher education institutions were determined by individual university councils and not by the Ministry.
Minister Nzimande also addressed the skills shortage. He said the continued growth in new artisan learners was essential if the country was to succeed with its strategic infrastructure projects and all the fringe industries that would grow to complement them.
He said the number of new artisan learners was increasing again after a long decline from the mid-1980s.
"The number of people passing their trade tests to qualify as artisans has more than doubled in the last four years, from 6 030 in 2007/08 to 13 168 in 2011/12," the Minister noted.
Workplace experience
On the issue of workplace experience, he urged employers to provide workplace-based training opportunities.
"An important feature of our skills development policies is our emphasis on expanding workplace-based training opportunities to complement classroom-based education. Many programmes require learners to have experience in workshops, as well as in workplaces in order to qualify," said Minister Nzimande.
"Workplaces that are prepared to accept learners are often in short supply. One of the most important thrusts is ensuring that more employers provide opportunities for apprentices, learners interns, cadets and articled clerks, among others."
For more information, call the Department of Higher Education and Training Call Centre: 0800 872 222; or send an e-mail to: callcentre@dhet.gov.za