Written by Amukelani Chauke
Budget votes
The Department of Trade and Industry's (the dti) efforts to revive the clothing, textiles, leather and footwear sector are already showing good signs of recovery.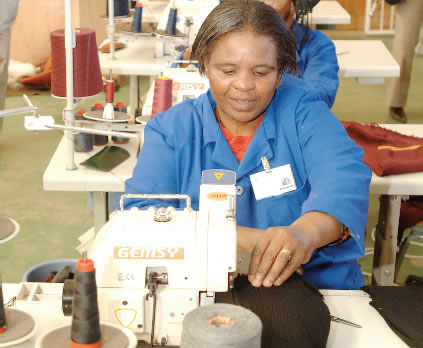 Speaking during the department's budget vote recently, Minister Rob Davies said over the past few years, the department has managed to revitalise the struggling sector to set it on a path towards growth – a move that has led to over 60 000 jobs being saved.
He said through the department's Clothing and Textile Competitiveness Programme, the sector has been turned around with jobs saved and new ones created especially in KwaZulu-Natal and the Western Cape.
"Not so long ago, the demise of this sector was regarded as a foregone conclusion.
"In this House, we heard some members imploring us not to support what was seen as a lost cause.
"So-called 'soft-touch industrial policy' was cited as the way to go. In other words, abandon support for sectors which were for one reason or another experiencing difficulties," he said.
He pointed out that according to the Industrial Development Corporation's recent review of the programme:
R3,7 billion had been approved under the programme, of which R2,6 billion had been disbursed since inception in 2010
the share employment in the sector had gone up from 28,8 per cent in 2009 to 38,8 per cent in 2014 as a result of compani drawing on the competitive programme.
"The programme's interventions have already demonstrably contributed to improved overall competitiveness, sustainability and employment growth for its recipients.
"At a cost to date of R2,6 billion disbursed, the programme has facilitated the creation of R3,9 billion in manufacturing value addition as well as saving over 68 000 jobs and achieving a total net gain of 6 900 new jobs," he said.
Meanwhile, the Minister said another flagship programme that is one of the department's initiatives to help support competitiveness of smaller players in sectors dominated by larger corporates – the Manufacturing Competitiveness Enhancement programme – was contributing to saving thousands of jobs.
The programme has been running for three years and its performance has remained robust.
"Since its inception, just three years ago this month, it has provided support for a total of 236 projects across a wide range of sectors, with an investment value to date of R3,8 billion and the maintenance of an estimated 28 000 jobs," he said.
Interventions produce results, save jobs
In September last year, Nampak unveiled a R1,2 billion glass furnace bottling facility supported by government's 12i Tax Allowance Incentive Programme
AbagoldLimited,  a  local  Hermanus-based  company  that  farms  abalone,  announced a significant expansion in December 2014 with support from the Dti Aquaculture Development and Enhancement Programme
Over the past financial year, the film and video sector contributed R3,5 billion to the economy, whilst supporting 25 000 jobs and the Film and Television Production Incentive underwrote 137 film productions.