Written by Noluthando Mkhize
The National School Nutrition Programme (NSNP) has provided meals to more than 21 000 schools across the country.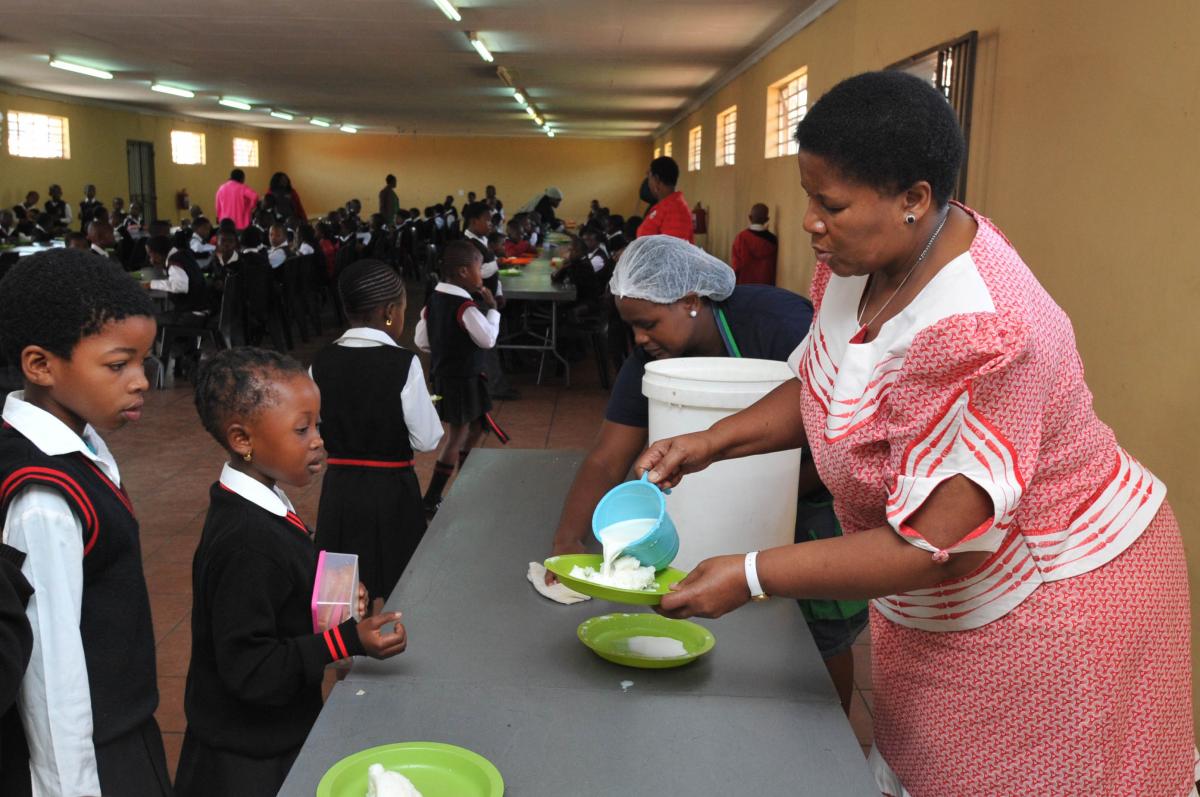 The NSNP is a programme of the Department of Basic Education (DBE) and it reaches over nine million learners across the country.
Initiated in 1994, the programme aims to provide meals to learners during school hours to help improve concentration and learning.
For the 2015/16 financial year, the programme set a target of reaching 19 800 schools nationally. The schools that are targeted are quintile one to three public primary and secondary schools, as well as identified special schools.
DBE's Director of the NSNP, Neo Rakwena, said the programme is not only about providing meals but also teaching nutrition education.
She added that the DBE aims to promote a sustainable and efficient school-feeding programme.
"This will ensure the continued provision of daily nutritious meals, as well as the effective implementation of the programme at all levels. To achieve this, capacity-building workshops on financial management, sustainable food production, meal preparation and planning are continuously conducted."
These workshops target district officials, NSNP coordinators, gardeners and volunteer food handlers.
Through the programme, some of the schools run the School Food Garden Programme (SFGP) to promote healthy living among learners and the community. 
"The SFGP deals with promoting the development of school food gardens for teaching and learning whilst supplementing the NSNP menu," said Rakwena.
Mogobeng Primary School
Vuk'uzenzele visited Mogobeng Primary School in Katlehong, east of Johannesburg, which is successfully implementing the NSNP and provides meals to 1 308 children daily.
Learners who attend the no-fee school come from informal settlements such as Mandela and Holomisa, as well as Nhlapo section, which is a township in Katlehong.
The NSNP has taken off since its implementation at the school in 2000. Mateta Marokoane, the school principal, said the children get two meals a day, cornflakes with milk for breakfast and lunch which could include vegetables, rice, pap, chicken, mince and sour milk.
"Since the NSNP was started in the school, our children do not come to school late because they all know that they need to have breakfast at 7:30am.
"The concentration of the learners has improved, bullying has completely stopped and the pass rate has risen."
Before receiving assistance from government, Marokoane, who has been principal of the school since 1997, decided to team up with the educators at her school to provide meals for learners out of their own pockets. 
"We used to have children fainting during school hours because they were hungry. We thought that it was not right to teach hungry children and started providing meals for the children out of our own pockets," she said.
Since implementing the programme, the school continues to do well and, in fact, won the NSNP Best School Award.
The purpose of the awards is to showcase excellence in NSNP schools and to document and share good practices with other schools.
 Twenty-seven schools are nominated from nine provinces and the best implementer of the programme wins.
Marokoane boasts that her school is known for cleanliness, especially when handling food.
"We have six volunteers at the school who are also parents preparing meals for the learners as food handlers. They get a monthly stipend of R960 from the department."
Modiehi Nyelimande, who has an eight-year-old son at Mogobeng Primary School, added that not only did the programme help with providing two meals for her child, but it was also a source of income.
"Prior to becoming a food handler at the school, I was unemployed; volunteering at the school has given me an opportunity to provide for my family."
Marokoane encouraged other school principals to ensure that the NSNP is implemented properly at their schools because "well fed learners produce good results".
The National School Nutrition Programme in numbers for the 2014/15 financial year:
Eastern Cape
An average of over 1.6 million learners in more than 5 000 schools were provided with meals.
Free State
540 612 learners were provided with meals in 1 134 primary, secondary and special schools.
Gauteng
Nutritious meal were provided to 793 967 learners from 1 390 primary, secondary and special schools.
KwaZulu-Natal
The NSNP reached more than two million learners in 4 948 primary, secondary and special schools.
Limpopo
The department managed to provide nutritious meals to more than one million learners in 3 811 primary, secondary and special schools. 
Mpumalanga
The province reached over 800 000 learners in 1 635 primary, secondary and special schools.
Northern Cape
On average, the department provided nutritious meals to 154 800 learners in 354 primary, secondary and special schools.
North West
The department provided nutritious meals to more than 600 000 learners in 1417 primary, secondary and identified special schools.
Western Cape
The department provided more than 400 000 learners at 1027 primary, secondary and identified special schools with nutritious meals.