Written by Noluthando Mkhize
Zamani Dlamini (33) has a passion for ensuring that his community is healthy.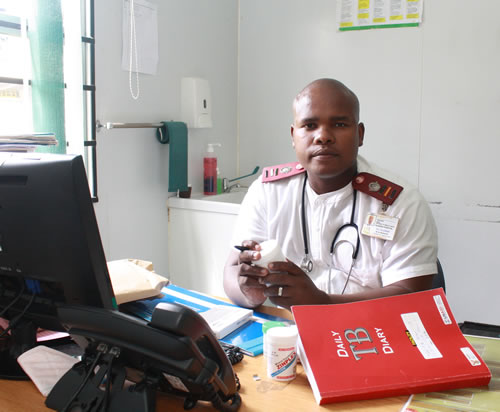 A male nurse by profession, Dlamini is a tuberculosis (TB) advocate and spends his days helping those affected by the disease.
He said he does this so that he can be the light that shines for the people in his rural village of Mpembeni in KwaHlabisa on the north of KwaZulu-Natal.
He is a nurse at Hlabisa Hospital in uMkhanyakude district and also runs the TB programme in this region.
The KwaHlabisa hospital caters for people in Mtubatuba, Hluhluwe and part of Nongoma. The hospital also services 17 clinics and four mobile clinics.
From taxi driver to nurse
Originally from Hlabisa, Dlamini was raised by his grandmother. In 1998, when he was in Grade 11, she was diagnosed with diabetes. It was then that he dreamt of becoming a nurse.
"At the time, I felt that if I was a nurse I would have been in a better position to help my grandmother because I would have had the knowledge of how to care for a diabetic person."
In 2000, he completed his matric with exemption but his prospects of becoming a nurse were very bleak.
"After completing matric, I sat at home without employment or education for seven years."
His grandmother passed away in 2002, and he decided to go to Johannesburg to look for a job.
"I worked as a taxi driver. Even while driving a taxi, I had this thing inside of me saying that one day I would become a nurse.
"If I happened to load a nurse into the taxi, I used to become ecstatic because I knew that this was the time for me to find out more about the nursing profession." He drove a taxi for four years.
Things started to look better for Dlamini in 2007 when he went back to Hlabisa after working in Johannesburg.
"I started visiting the Hlabisa Hospital frequently to find out if there were no opportunities for young people who wanted to be nurses."
In the same year, he got a scholarship through the Umthombo Youth Fund, which allowed him to enroll at the University of Zululand for a degree in nursing.
In 2012, he completed his studies and started working as a nurse at Hlabisa Hospital.
Educating the community
The TB programme caters for people who receive health services from the 17 clinics and four mobile clinics serviced by Hlabisa Hospital.
"I run the TB programme in all these clinics. I also want to create more awareness about this disease and iron out misconceptions about TB."
When Dlamini started working as a TB co-ordinator in 2013, he wanted to improve TB awareness.
"I realised that the only way I can do that is to educate people about the disease."
He started educating enrolled nurses from the clinics that fall under Hlabisa Hospital. He also educated taxi drivers, traditional healers and learners in all schools in the district.
Upon joining the TB programme at Hlabisa, he realised that the cure rate was very low - between 60 and 70 per cent - and the defaulter rate was high.
Providing training for nurses in clinics, teams of community health workers, traditional healers and taxi drivers resulted in the defaulter rate decreasing from 4 percent to 0.5 percent and the cure rate went up from 70 percent to 81 percent in KwaHlabisa.
Dealing with stigma
Dlamini said while raising awareness about this illness he became increasingly aware of the many misconceptions surrounding the disease.
"What I found to be the biggest misconception about TB is its mode of spread. Most people associate TB with HIV, which is very wrong. They say once you have TB, it's obvious that you are HIV positive.
"This is why some people end up defaulting in taking medication because they are scared of the stigma associated with having TB."
He added that people in rural areas also have a strong belief in traditional medicine.
"We cannot run away from the fact that people in our country believe in traditional healers. That is why I decided to teach traditional healers about this disease so that they refer people who have TB to the hospital rather than try to heal them." 
Dlamini said he enjoys the work that he does even though working in a rural area is very stressful.
"Professionals working in rural areas must remember that they are often the last hope for their patients. They are also role models to children. We can't all flock to the city; some of us must stay in far flung areas to help those in need."