Written by Thandeka Ngobese
The lives of young people from KwaZulu-Natal (KZN) who are passionate about farming are being changed for the better, thanks to the Future Farmers Internship Programme.
The internship programme is an initiative started by a female farmer, Judy Steward, in 2007. The programme provides training and skills development to young people in order for them to become commercial farm managers or farmers in their own right. Steward told Vuk'uzenzele that she started this programme to reduce unemployment and to promote farming as a career among young people in KZN. She said through the programme, learners are placed on farms where they work for a period of two years to gain experience.
"They are learning a variety of skills, from the most menial tasks to tractor driving, operating milking machines, control of irrigation systems, dairy herd management and leadership skills. After two years of practical experience, a few learners who excel in their work are selected to do a one-year internship overseas. We have already placed 36 learners in Europe, Australia and United States of America," she said.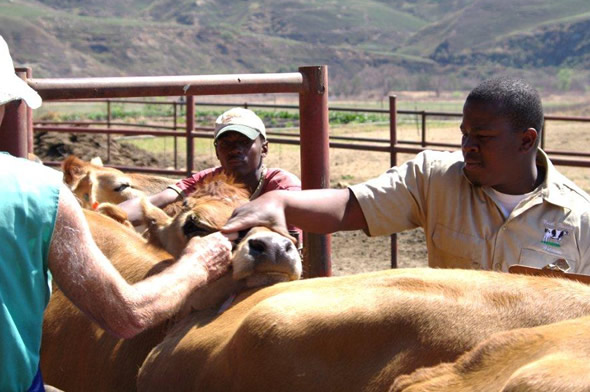 Steward said in these countries learners are equipped with skills to manage large farms. When they come back home, they are employed in the agricultural sector as farm managers. "The basic requirements are a matric certificate, the ability to speak English, they must have worked in the farming industry for at least two years and be between the ages 18-26 in order to to qualify for a visa to go overseas," she said. One of the beneficiaries of this programme, who is a mentor for Future Farmers, Mzwandile Duma (29) said being part of the programme opened doors of employment for him.
"I only had matric that I obtained at Zakhe Agricultural College. After matric, I was sitting at home because I didn't have money to go to a tertiary institution. When I heard about the programme, I was very reluctant because I didn't think that Future Farmers would consider my application because of my disadvantaged background. But here I am. I made it," said Duma. After his two-year training, Duma was placed on a farm in the US for further training and development.  
"I was at North Florida Hole Holstein Farm in America. I studied pasture management, dairy management, animal health and other courses. When I came back I didn't have to look for a job – I was headhunted. I'm now working as a provincial organic manager. I encourage young people to grab opportunities like this because they are very rare to find," he said.
Duma is also working as ambassador for Future Farmers. "I mentor learners that are selected to go overseas on how they should handle themselves when they get there. "This is very important because if you go there and mess up, you are automatically closing doors for those behind you. Farmers overseas have a full right to say we don't want students from South Africa anymore because they do not want to work," he said.
Steward said that people who have not had any farm experience may still apply. "They will be placed on farms and be monitored for two years before they can go overseas. The reason why you have to work on a farm first, is because you will need references to go and also we need to send people with passion. If you are working on a farm, it is easy for us to see if you have passion for what you do or if you are just there for the money," she said.
For more information on Future Farmers, visit the office in Howick, KwaZulu-Natal, or call 033 330 4322.