Written by Amukelani Chauke
The Deputy Minister of Agriculture, Fisheries and Forestry, Bheki Cele, says a package of just under R1 billion has been set up to assist farmers who are affected by drought in several provinces. The Deputy Minister, who was speaking during a debate of President Zuma's State of the Nation Address (SoNA), in Parliament recently, also said more relief is being given to farmers as drought has dried up reserves, leaving crops and livestock vulnerable.
"All provinces are under constant assessment and further declaration has been and will continue to be made as the assessments are concluded. It is important to note that other mitigating and risk reduction programmes of government are continuing."
"A total package of just under R1 billion has been approved in addition to the R124 million allocated by provinces to assist the affected farmers with livestock feeds and livestock water," he said.
During his State of the Nation Address (SoNA), the President emphasised the importance of Agriculture, Forestry and Fisheries as he gave feedback on the Nine-Point Plan, with specific focus on the revitalisation of agriculture and agro-processing value chains and the Ocean Economy.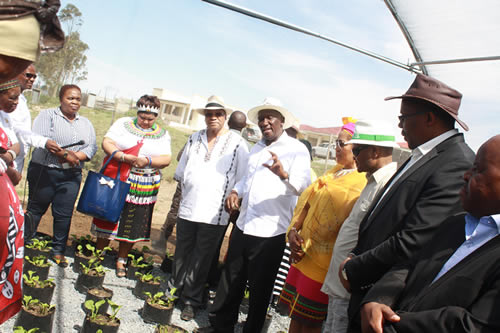 The President said five provinces have been seriously affected by drought and government has provided relief to the affected communities. Collectively, the Agriculture, Forestry and Fisheries sector contributes over R70 billion to the South African economy. Deputy Minister Cele said the drought is threatening the national priorities linked to food security, job security and the economic growth.
He said that just over 9.2 million cattle, goat and sheep in all provinces have so far benefited from government interventions. Additional funding is being requested from National Treasury through the Inter-Ministerial Committee to extend the assistance, the Deputy Minister said. He added that government has also established feedlot areas in provinces such as KwaZulu-Natal. "We are engaging the Industrial Development Corporation and the Land Bank, who have already made available over R100 million to assist farmers, with credit facilities related to drought."
Eradicating hunger, malnutrition
The Deputy Minister saidthat the current situation calls for coordinated food security interventions. "Government has centralised the establishment of a national food security implementation framework in the office of the Deputy President," he added.
"Government has also approved Agriculture Phakisa project [Operation Phakisa Agriculture and Rural Development] aimed at fast tracking targeted planning towards the achievement of the National Development Plan targets on agriculture and rural development targets."