Written by Albert Pule and Lwanda Bana
An Eastern Cape farmer had to pinch himself to make sure he was not dreaming when he was informed that he and his counterparts would get much-needed assistance from government. Reverend Mzoxolo Mxekeza from Seymour immediately called his wife to share the good news.
"I was so shocked when I heard that I was to be given two Boran bulls, that I phoned my wife immediately to tell her the good news." The community of Nkonkobe is the latest to get assistance from the Eastern Cape Department of Rural Development and Agrarian Reform.
As part of the department's efforts to help farmers who have been affected by drought in the province, MEC of Rural Development and Agrarian Reform Mlibo Qoboshiyane donated bulls, goats, sheep, hay, lucerne and mineral licks to farmers from Nkonkobe and Seymour. He donated two Boran bulls, three Boer goat rams and 15 Dohne Merino rams to Siyazama Clains Wool Growers and fodder production equipment to the Hacop Project valued at R900 000.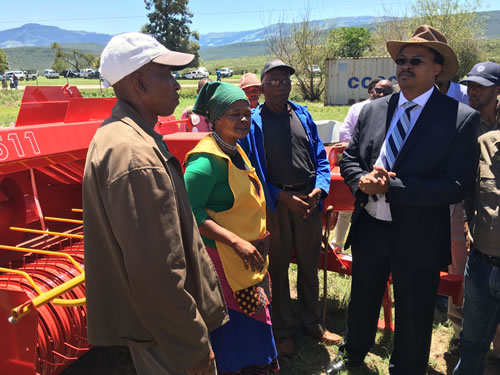 The equipment included one baler, one rake, one cultivator, one mower, lucerne seed for 20 hectares and a diesel pump for an irrigation system. As part of the department's drought relief intervention, the MEC also donated 10 tons of hay, eight protein and energy mineral licks and seven water tanks.  
Working together to deal with the drought
MEC Qoboshiyane said it was important for all stakeholders to work together to deal with the drought. In all the affected districts, the department - in partnership with various stakeholders - has established district joint operations committees to support efforts aimed at helping farmers to deal with the consequences of the drought.
MEC Qoboshiyane said interaction has improved between officials and clients. "Departmental officials are interacting with farmers and clients and are educating them about alternative livestock management." He added that farmers have also been assisted with water and equipment.
"A total of 400 water tanks and 5 600 000 litres of water have been procured by the department and deliveries have commenced. We are targeting those severely affected districts." Nohlakaza Papu from Seymour, who is benefitting from a water tank donated by the department, said the help they received from the department would go a long way in assisting small farmers to deal with the drought.
"I feel so happy and grateful to the MEC for the tank. It will bring great change to us as we were battling extreme water shortages. God has answered our prayers. There are no words to explain my joy," she said.
Training for farmers
In an effort to get young people involved in agriculture, the department decided to improve the agricultural colleges in the province. MEC Qoboshiyane says the department was planning to refurbish the college farm and hostels at Fort Cox College. This would increase the intake of students. The department is also embracing technology, giving students at Tsolo Agricultural College iPads to use for their assignments and to conduct research.
"We are going to have students of competence, not students of attendance," he says. The MEC added that the colleges would give the students a competitive edge because they would be given a chance to practice what they've learned in class in the different community projects of the department.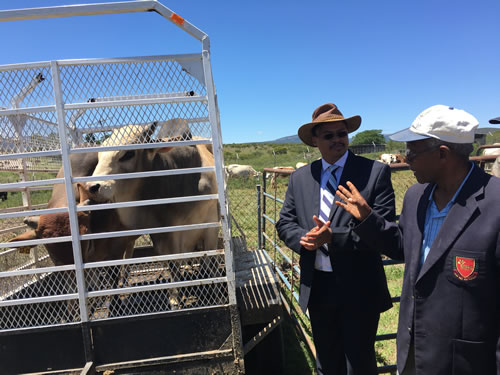 The MEC also opened a training centre aimed at training more farmers in the region. The Mpofu Training Centre will offer training to students in sheep shearing, cattle dipping and other aspects of farming. Students will also attend courses on poultry, beef and sheep management. "There is also hostel accommodation with kitchen facilities for students," he said, adding that students leaving the institution should be fully equipped in all aspects of livestock nurturing.