Over 1 000 people attended a South African Social Security Agency (Sassa) anti-corruption conference outside Pretoria in March. The goal was to strengthen the partnerships between organisations and government departments that are fighting fraud in the social security sector.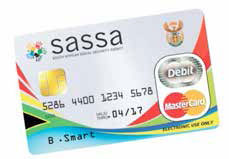 Sassa is responsible for the management of funds provided by government to use for grants aimed at making a difference in the lives of society's vulnerable.
The mistreatment and abuse of vulnerable grant recipients is on the increase and is worth millions of rands.
Sassa's role in fighting fraud and corruption
Sassa has taken a radical approach to fight fraud and corruption by introducing physical barriers to restrict employee movement, split authorisation, a staff vetting system and new biometric system to overcome the problem of insecure passwords.
Re-registration and the introduction of the biometric payment system gave Sassa a credible database of beneficiaries, said Social Development Minister Bathabile Dlamini, adding that over 300 000 fraudulent grant payments had been cancelled, including duplicated grants, and over 700 000 child recipients had been removed because they could not be presented by their primary caregiver for re-registration.
Sassa's Fraud Prevention Strategy includes tools appropriate reporting tools and whistleblowing to help identify fraud and corruption.
"There has also been progress in fostering an ethical organisational culture, increasing cooperation with other agencies and improving policies, procedures and internal controls," said the Minister.
The Fraud Prevention Strategy is working: the number of cases reported has dropped. There were 8 000 fraud and corruption cases for 2012/13. These include investigations of prior years not previously captured on the Fraud Case Management System.
Of these, as at 31 January 2015, 1 919 had been closed and 5 145 had been finalised. There are 670 cases outstanding. The value of the finalised investigations is R87 490 444 and R1 207 833 has been recovered by the regions.
"Between 1 April 2013 and 31 March 2014, more than 3 571 cases were captured on the Fraud Case Management System; at the end of January 2015, only 1 072 cases had been captured. During the same period 1 522 cases were closed and 486 finalised (worth R18 092 347 of which R455 054 was recovered)," said Minister Dlamini.
Protect yourself
Sassa's Dianne Dunkerley, executive manager: grant policy support says Sassa does not sell funeral policies or give loans and does not expect you to buy a funeral policy.
"If someone tries to make you buy a product or sign something you don't understand, ask Sassa for help. And do not give your card's secret PIN code to anybody," emphasises Dunkerley.
Stamping out fraud is going to take an effort from government and community.
"Where there is corruption there are communities. Communities have a role to play in spotting suspicious behaviour and reporting it," said Minister Dlamini.
If you are a victim or suspect fraud you can report it anonymously on: 0800 701 701