After spending 22 years as a police officer, Captain Madeleine van der Westhuizen never thought she would one day be named Detective of the Year.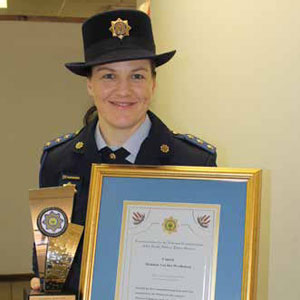 Capt van der Westhuizen won the award at the South African Police Service (SAPS) 2015 National Excellence Awards held recently at Emperors Palace in Johannesburg.
Although she is proud to have won the award, Capt van der Westhuizen says it was a team effort.
"I am honoured to be acknowledged; I really did not think I would win, especially since I was just doing my job."
Capt van der Westhuizen is based at the Family Violence, Child Protection, and Sexual Offences (FCS) unit in Klerksdorp, North West.
She played an important role in investigating a case against parents who were accused of sexually abusing their three biological children.
When the case was opened in 2010 the children were aged 15, eight and seven. The teenager was diagnosed with cerebral palsy – a disorder that affects muscle tone, movement, and motor skills (the ability to move in a coordinated and purposeful way).
Educators at the children's school noticed something was wrong with the children and contacted social workers.
In June last year, the 37-year-old mother of the three confessed and gave evidence in court following an investigation by Capt van der Westhuizen.
The Rustenburg Regional Court sentenced the mother to 12 life sentences and 20 years imprisonment.
What made this case unique, according to Capt van der Westhuizen, was that the mother was also accused of compelled rape.
"In this case compelled rape was when the mother of the kids gave her children to their father for him to rape them."
In 2012 the then Department of Justice and Constitutional Development amended the Criminal Law (Sexual Offences and Related Matters) Act to include offences such as compelled rape.
Capt van der Westhuizen praised government for doing this because she believes that it has given the community a voice.
"This amendment is really for the good of the victim. I am very happy that it is making a difference in our society."
Capt van der Westhuizen said this case would stay with her for a long time.
"This is one case I will always remember, everything that I had learned during my training as a police officer needed to be applied."
Boosting the FCS units
The FCS unit under which Van der Westhuizen works was reintroduced in 2010. Nationally there are 176 established FCS units attached to all police clusters within the SAPS.
During the Sexual Offences Indaba held last year, Deputy Minister of Justice and Correctional Services John Jeffery said an additional 2 139 forensic social workers were appointed.
"These include 79 forensic social workers appointed to assist in cases of child sexual abuse by means of conducting assessments, compiling court reports and providing expert testimony in court as a means to strengthen the cases and increase conviction rates."
According to the SAPS, the role of FCS detectives is to ensure the effective prevention and investigation of FCS-related crimes.
Crimes related to FCS are divided into sexual crimes, kidnapping, abduction, missing children less than12 years old and electronic media facilitated crime.
During the release of the 2013/14 crime statistics, National Police Commissioner General Riah Phiyega announced that there was a decrease in sexual offences crimes.
General Phiyega said sexual offences had decreased by 5.6 per cent for the 2013/14 financial year.
She added that there was an overall decrease of 6.3 per cent of all rape crimes in the country.
According to the SAPS, units such as the FCS have had a positive effect on incidences related to sexual offences.
These units have proved to be effective in helping victims and bringing offenders to book, increasing the public's confidence in the police.
For more information on family Violence, Child Protecction and Sexual offences units visit:

www.saps.gov.za