Written by Ongezwa Manyathi
After 15 years of local government, South African communities are experiencing better access to services such as water, sanitation and electricity.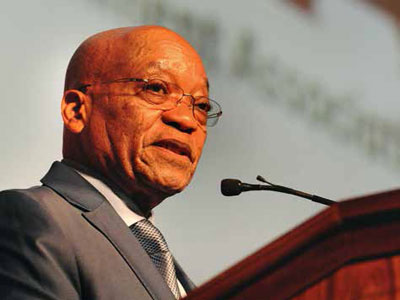 Housing developments have created vibrant communities that have facilities such as crèches, clinics and schools.
Government has also replaced almost 500 informal settlements with quality housing and basic services over the past five years.
"We have made significant progress since the dawn of democracy to respond to the injunction that there shall be houses, security and comfort, cited in the Freedom Charter," said President Jacob Zuma. He was speaking at the South African Local Government Association (SALGA) National Members Assembly (NMA) held in Midrand recently.
The NMA is a meeting for local government leaders to reflect on progress made in local government and also to find ways to strengthen local government and improve services.
The theme for this year's conference was "Celebrating 15 years of Democratic Local government and also to find ways to strengthen local government and improve services.
The theme for this year's conference was "Celebrating 15 years of Democratic Local Government. Going back-to-basics to consolidate and deepen a developmental and people centred local democracy."
The President said many communities were already experiencing progress by receiving basic services. "The release of the 2011 Census confirmed the great strides made in providing basic services.
This upward trend is reinforced by the last report on the non-financial census of municipalities which was released on 2 September 2014," he said.
According to the report, services provided by municipalities have reduced poverty.
The report shows that 5.3 million households are receiving free basic services and that of the 11.8 million who receive basic water services, 2.5 million of them benefit from indigent support. Indigent households are those that qualify for rebates or service subsidies.
Ten million consumer units are receiving sewerage and sanitation from municipalities in South Africa and 31.1 per cent of these con¬sumer units have access to free basic sewerage and sanitation.
"While the lives of millions have improved meaningfully, there are many others who are still waiting, who still need to see their lives changing for the better.
They want water, electricity, housing, roads and decent schools near their homes," emphasised President Zuma.
South Africa's good story
The President told delegates that a lot of good had happened in South Africa during the past 20 Years of Freedom and that the country did have a good story to tell.
"This is a story of a caring, effective government that has worked wisely and diligently with scarce resources to make deep, positive changes in people's lives.
"This is a story of good work and centres of excellence that have emerged across the length and breadth of our country, in provinces and in the local sphere."
The President encouraged local governments to work together and share lessons learnt.
"There are municipalities that are functioning effectively, with effective political and administrative systems, with strong internal audit and financial management structures," said President Zuma.
He said these municipalities had clean administration where the staff prioritised fraud prevention and risk management.
These municipalities, said the President, also have a zero tolerance to poor performance, and conduct regular performance reviews and implement corrective measures where needed.
"This is what all municipalities should do, because local government exists to serve the people. That is the bottom line."
He congratulated all municipalities that have made a difference in changing peoples' lives.
"Your work is acknowledged and appreciated," he said. The President called on delegates to do better and work harder to make South Africa a better place for all.
"We should do better in improving services such as water infrastructure, solid waste management or the provision of electricity.
"These are simple basic services that, when provided efficiently, will make our people's experience of local government a pleasant one."
Professionalising local government
For local government to solve some of the challenges it faces it needs to be managed by professional and qualified people.
According to President Zuma, government has responded to improve professionalism and the management of local government by introducing amendments to local government legislation such as the Municipal System Amendment Act.
"There should be no compromise in ensuring that officials possess the necessary minimum skills," he said.
The President said chief financial officers, engineers and other technical staff should be skilled and be experts in their line of work.
SALGA has made efforts in improving leadership and ensuring that there are proper skills in local government by introducing tailor-made induction programmes to help councillors understand their roles and responsibilities better.
According to the Chairperson of SALGA, Thabo Manyoni, the organisation has successfully piloted an Executive Leadership Development Programme.
Going Back-to-Basics
At the Presidential Local Government Summit, also held in Midrand, in September 2014, local government officials jointly agreed to go back to the basics to provide quality services to communities.
The Back-to-Basics programme aims to build responsive, caring and accountable municipalities.
"We committed to ensuring that municipalities are able to provide water, electricity, parks, street lighting, refuse removals, repairing of potholes, dealing with the frustrating interruption of services and billing problems affecting households," he reminded delegates.
He said municipalities must also communicate clearly and give feedback to communities they serve.
"Going back to the basics means reviewing tendering systems and dealing with corruption systematically within the supply chain system in local government."
The President highlighted that municipalities must work harder to increase poverty-alleviation programmes such as the Community Work Programme, which provides skills and work opportunities.
"Back-to-basics also enjoins municipalities to boost rural development by supporting small enterprises, cooperatives and smallholder farmers in rural towns and villages."
He urged delegates to rededicate themselves to serving diligently in all three spheres of government.
"We should always remember that effective public administration is not a privilege in a democratic society. It is a fundamental right."
He emphasised that all three spheres of government should strive to meet the public's expectations of services in a timely manner close to where they live.
"They must be delivered efficiently and effectively through appropriately trained public servants."
SERVICE DELIVERY IN NUMBERS:

95 per cent – The percentage of households with in 2012. This is an increase from 60 per cent in 1994.

86 per cent – The percentage of households with access to electricity in 2014. This increased from 50 per cent in 1994.

83 per cent – The percentage of households with access to basic sanitation in 2012 – this is an increase from 50 per cent in 1995.

9.1 million – the number of households with access to regular wasteremoval services in 2011. This is an increase from 6.3 million in 2001.

73 – the number of municipalities that had more than 90 percent of households accessing electricity. This is an improvement from only one municipality that had more than 90 per cent of households accessing electricity.

72 per cent – The percentage of households that have access to waste-removal services. This is an improvement from 55 percent in 2009.