International relations
South Africa and Sudan have agreed to work together to boost sectors such as agriculture, health and energy.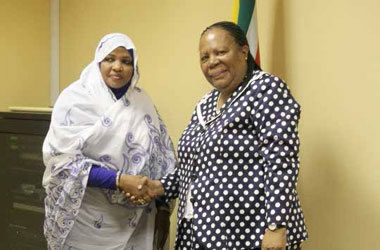 The two countries each pledged R2 million to support researchers in both countries.
Science and Technology Minister Naledi Pandor and her Sudanese counterpart, Tahani Abdalla Attla, signed the agreement to fund researchers.
The agreement is part of efforts to speed up a pact signed in Khartoum last November to support research work in South Africa and Sudan.
Addressing the media after signing the agreement, Minister Pandor said she was extremely pleased by the agreement.
"We have invited the minister to come and experience our research programmes," she said.
The Sudanese Minister and her delegation were in the country on a week-long visit, which included visits to a number of science related projects.
Minister Abdalla said she was happy the two countries were taking the agreement further.
"Our visit is mainly to activate the agreement."
Through the agreement, South Africa and Sudan will work together in the fields of agriculture and animal resources, nanotechnology, health, energy and space science, as well as other crossing-cutting areas such as intellectual property and the benchmarking and development of science, technology and innovation policy.
South Africa and Sudan established diplomatic ties in 1994 and have since maintained good relations as a result of the role South Africa played in the peace and reconciliation process between Sudan and South Sudan.