Written by Thandeka Ngobese
The provincial governments of the Eastern Cape and KwaZulu-Natal (KZN) have partnered to strengthen agriculture and rural development in the country.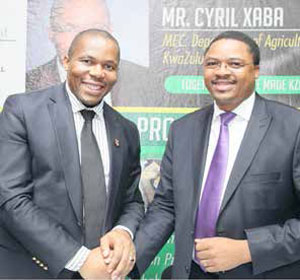 This comes after KZN MEC for Agriculture and Rural Development Cyril Xaba and Eastern Cape MEC for Rural Development and Agrarain Reform Mlibo Qoboshiyane agreed to work together to learn best practices and attract young people to the agriculture sector.
Through the agreement, young people in KZN who want to further their agricultural studies can do so at Tsolo Agriculture and Rural Development College in the Eastern Cape. The college was recently reopened to not only help attract and skill rural youth in agriculture, but also help communal farmers improve their farming skills.
The programme, which started in the 2015/2016 financial year, will see students from KZN being trained as animal health technicians at the college.
"Municipal boundaries separating the provinces should not deter cooperation between provinces which are serving the same government because collaboration will always ensure speedy service delivery. Agriculture will stimulate economic growth and open doors for the creation of jobs and poverty alleviation," said MEC Xaba.
Both departments will share information and programmes on funding models for agricultural high schools. They will also work together to promote farming as a career among young people.
The MECs also agreed to work together to develop agro-processing and agribusiness in both provinces.
During his State of the Nation Address, President Zuma said government would promote the establishment of agricultural parks or cooperatives and clusters in each of the poorest district municipalities to transform rural economies.
The President said that an initial funding of R2 billion had been made available for the agricultural parks initiative. Agricultural parks are areas set aside specifically for agricultural activities to small farmers at reasonable cost with long-term tenure.
In light of this, the two provinces will work together to implement agricultural parks to attract potential investors into the two provinces.
"My department also learnt a great deal from MEC Qoboshiyane and his team. It is also through collaboration and cooperation that we will be able to transform the agricultural sector to ensure food security, economic growth and job creation in the country," said MEC Xaba.
The MECs also agreed to host a sports week for all agricultural colleges in the two provinces later this year as well as other inter-provincial college sporting activities.