Public Enterprises Minister Lynne Brown says stateowned companies like Eskom and Transnet have and continue to create jobs in communities where they operate.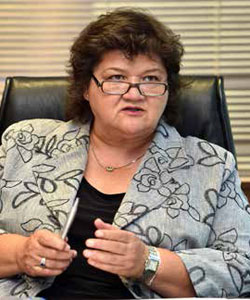 In an interview with Vukuzenzele, the Minister also called on the companies to play a bigger role in skills development, job creation and inequality and poverty alleviation, and said they should aim to train not less than 1 000 artisans and engineers per year.
"Last year alone, Transnet trained 1 000 artisans and they have a localisation programme, they train engineers and they train welders.
"In terms of the localisation programme, wherever they work, they employ people from the communities," she said.
The Minister said that this year, Transnet and Eskom made R9 billion and R7 billion in profits respectively, and that as a shareholder, she expects them to train more artisans and engineers.
"They set themselves a target each year in the shareholder's compact with me.
"When I sign off this year, I am of the opinion that every one of the companies cannot set themselves a target of less than a thousand trainees a year. In fact, the larger co