Written by Ntambeleni Gabara and Edwin Tshivhidzo
Communications Minister Faith Muthambi says communities must take advantage of the opportunity to interact with government leaders whenever izimbizo are held in their communities.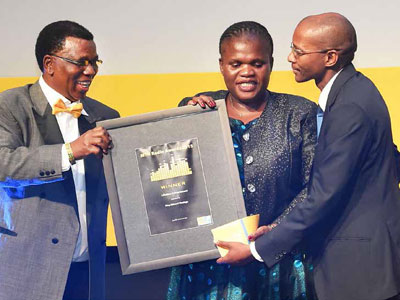 The Minister was speaking during the start of Imbizo Focus Week that took place across the country. Izimbizo give communities an opportunity to listen to political leaders as they explain the priorities of government as outlined in the State of the Nation Address.
Izimbizo are also held to encourage communities to play their part and implement the National Development Plan, and support government's commitments that the country moves forward to achieve Vision 2030.
It's also an opportunity to measure progress made on government's priority programmes.
Imbizo programme
Minister Muthambi said the imbizo programme is continuing to grow as they take government's Programme of Action to the people and listen to communities' needs.
"This is an important part of accounting to our people and clarifying government's policy," said Minister Muthambi.
During the Imbizo Focus Week that took place in April 2015, government achieved more than 70 imbizo engagements.
"We will sustain these through the year," she said.
Minister Muthambi encouraged communities to interact with government to ensure that they get the services they need. She called on political representatives to reach out to communities to listen to their concerns.
"When we say our government cares, we mean it. We are a government that listens. We take your concerns seriously. We are committed to addressing your concerns," the Minister said.
She also encouraged community members to interact with their local representatives.
"As a community member, you have a role to play. Speak to us."
She said communities must use the platforms that the provincial government had created for them to interact and raise their concerns.
The Minister also cautioned that when people are using these platforms, they must not only complain but also appreciate what government is doing for them.
Support for community media
Community media also play an important role in ensuring that government is able to talk directly with communities.
Minister Muthambi says government will continue to develop its relationship with community broadcasters, and has to date supported the sector with over R400 million.
"We will continue supporting their signal distribution costs and equipment infrastructure. We will also assist the sector in training their production and news teams in reporting and producing content for the upcoming local government elections," she said.
Speaking at the 6th MTN Radio Awards held at the Sandton Convention Centre recently, Minister Muthambi said that radio is the most effective tool that can be used to convey information to the people, especially information about nation building.
Minister Muthambi called on CEOs, programme managers and station managers to look at how they can partner with government, especially the Departments of Communications and Arts and Culture in promoting nation building and social cohesion.
Government support for community media is unwavering, the Minister said, with more than R36 million of government advertising allocated to community media through media bulk buying.
The Minister said this investment makes a significant contribution to the sustainability of community media.
She added that the GCIS and MDDA would engage with Premiers to see to it that the 30 per cent advertising spend earmarked for community media is divided properly.
Rewarding broadcasting excellence
The MTN Radio Awards aim to recognise excellence in radio, with the objective of ensuring that radio remains one of South Africa's foremost media choices.
Several campus, community and commercial radio stations were among the big winners at the awards.
SAfm, Motsweding FM, 702, Tuks, Thobela FM and Jacaranda FM were among the winners for their programming, which ranges from afternoon drive shows and talk shows.
The awards are also about rewarding individuals and organisations that combine talent, hard work and skill to ensure that their listeners are compelled.