The Department of Water and Sanitation and Rand Water have partnered in a R298 million programme to provide water to 24 villages in Bushbuckridge, Mpumalanga.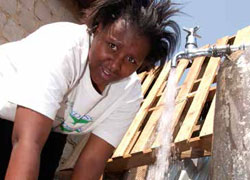 The Mpumalanga water programme has benefited 15 000 households in rural communities.
"A further R601 million is already being implemented as part of Phase 2 of the support to the municipality to benefit an additional 69 villages," said Mpumalanga Premier David Mabuza.
Speaking at the opening of the Mpumalanga House of Traditional Leaders, he said the provision of basic services such as water, sanitation, electricity and proper human settlements was key to improving the quality of lives.
Premier Mabuza said municipalities have been tasked with ensuring that water supply is supplemented with boreholes in the coming months.
"Where boreholes exist but are non-functional, such boreholes shall be refurbished within the next three to four months in order to ensure that our people have access to water," he said.
The province has set aside R186.2 million to address backlogs for the electrification of households in the province for the 2015/16 financial year as part of the Integrated National Electrification Programme.
"We are quite aware of the energy demands that this country faces," said the Premier.
He added that government was implementing the Comprehensive Rural Development Programme to create job opportunities for communities in rural and tribal areas while providing food security at the same time.
Government had come up with the War on Leaks Programme, which is aimed at improving the sustainability of water supply.
"Youth development, through this programme, shall be key as those with minimum qualifications would not only enjoy access to job opportunities but would also benefit in our long-term skills development and refinement of technical expertise," Premier Mabuza said. He added the provincial government would continue to support, strengthen all institutions of traditional leadership in the province to speed-up rural development, nation building and social cohesion within traditional communities.
"Government will continue to support the capacity building programme for traditional leaders to empower them with the requisite skills and competencies to contribute to economic growth and community development programmes in our tribal communities," Premier Mabuza said.