When Namhla Ngubo decided to go overseas after completing her studies to gain experience in the food and beverage industry, she had no idea that experience would motivate her to start her own business.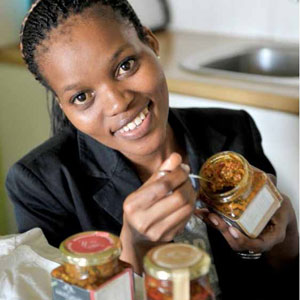 Ngubo is the owner of Harvest from Heaven, a Durban-based company that manufactures curried chillies and peri-peri sauce. It supplies local supermarkets, caterers, shisa-nyama eateries and flea markets.
The company received a R49 000-inventory for her business through the Business Development Grant from the National Youth Development Agency (NYDA).
This NYDA Grant Programme is an incubator programme for young entrepreneurs to help them to either start or to grow their businesses. Funding of up to R100 000 is available for youth-owned businesses.
Thirty two-year-old Ngubo completed her National Diploma in Food and Beverage studies and her BTech in Business Administration.
She then worked on cruise ships and at different restaurants overseas, and this exposure to a whole new world helped to inspire her to start her own business.
"I decided to do something with the experience that I gained while I was abroad. I just needed to find something to do to sustain myself."
In 2012, Ngubo started her business and gave it an interesting name, Harvest from Heaven.
"When you plant a seed, you have to wait a while for it to grow. It's not something that happens overnight. You have to be really patient with your dreams and vision."
The business started off slowly only selling curried chillies but in 2013, Ngubo decided to diversify her products, which are sold to local businesses. The business now has a manufacturing place and employs five people.
Ngubo said since starting her business she has faced challenges because the food industry is complex and one needs to comply with health regulations. However, she overcame these challenges by staying committed to her vision and wanting to see her business succeed. "I had to be committed to what I wanted and I just had to persevere. Having a mentor as well made it easier for me," said Ngubo.
Through her business ventures Ngubo says she has learnt and gained so much.
"I have built professional business relationships with others and my knowledge has expanded. This helps me overcome challenges because I have the exposure and experience where needed."
Ngubo's advice for young entrepreneurs is simple.
"Don't go where everyone is going, it causes a traffic jam, rather go where no-one went and you will be successful. In life you have to dream and you have to be persistent, never give up."