Tickets for the Confederations Cup are sold in two phases. The first phase started in November last year and continues up to 31 March this year.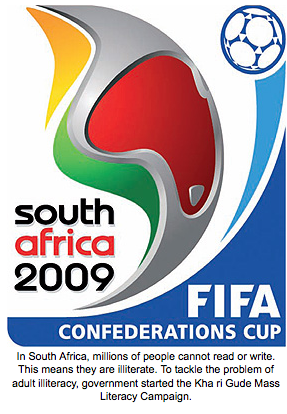 During this time, applications for tickets are sent to FIFA for processing on a first-come-first-served basis. But this depends on whether tickets are available.
Types of tickets
The second phase is between 1 April and 28 June 2009. There are four types of tickets. Types one, two and three are sold in American dollars and are only for soccer fans living outside South Africa.
Type four tickets are for South African soccer fans only. These tickets are sold in South African Rand.
Soccer fans from other countries wanting to buy tickets will have to buy them through the FIFA website www.FIFA.com.
South African soccer fans can buy their tickets at FNB outlets throughout the country or through the website. Each ticket is numbered to identify a specific seat. Each ticket holder must sit in the seat allocated to the particular ticket.
A limited number of tickets are available for people in wheelchairs. These are only for persons who have a disability and are unable to attend matches without using a wheelchair. All wheelchair users applying for tickets must say specifically that they need wheelchair tickets. People who buy wheelchair tickets will get an extra ticket free of charge for the person who accompanies them.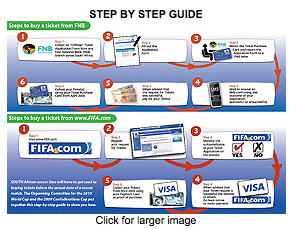 Personal details
When you apply for a ticket, you must give your first name, surname, date of birth, nationality, passport reference number or SA identity document (ID) reference number, contact details (e-mail or telephone), postal address (no PO Box) and payment details.
- Mbulelo Baloyi
Matches - when and where?
Group A: South Africa, Iraq, New Zealand, Spain
Group B: United States of America, Italy, Brazil, Egypt
Group stage matches, times and venues

Semi-final 1:
Wednesday 24 June 2009, 20:30, Bloemfontein
1st in Group A vs. 2nd in Group B
Semi-final 2:
Thursday 25 June 2009, 20:30, Ellis Park Stadium (Johannesburg)
1st in Group B vs. 2nd in Group A
Third-place play-off:
Sunday 28 June 2009, 15:00, Rustenburg
Loser semi-final 1 vs. loser semi-final 2
Confederations Cup Final:
Sunday 28 June 2009, 20:30, Ellis Park Stadium (Johannesburg)
Winner semi-final 1 vs. winner semi-final 2