South Africa is ready to welcome soccer teams from all over the world for the Confederations Cup, which takes place from 14 to 28 June. The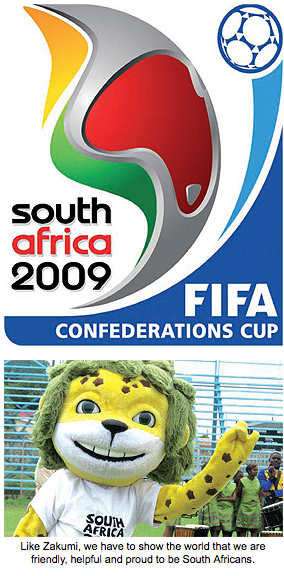 tournament is a scene setter for 2010. It will be a test for South Africa's ability to host a successful Soccer World Cup.
In June this year, the eyes of the world will be on South Africa as we welcome teams and fans from all over the world to the Confederations Cup. A total of 16 matches will be played at four different stadiums.
Many people doubt that South Africa has what it takes to host a successful 2010 World Cup. It is therefore important for South Africans to show the world what we can do.
Warm welcome
The Confederations Cup, as well as the World Cup, is a wonderful opportunity for South Africans to market our country to the world. Visitors who have positive experiences here, will tell others about it. This will lead to more tourists. It will be good for our economy as it creates jobs and brings money into the country.
We have to give all the visitors a warm welcome, be good hosts and make sure that things run smoothly.
FIFA
It is also important for South African fans to behave well and respect FIFA's rules when they attend matches. FIFA has put a lot of confidence in us. They have also put a lot of effort and money into the preparations for the tournaments.
The Confederations Cup and the World Cup are bringing improvements to our roads and other infrastructure. FIFA has also contributed to skills development in South Africa. Let us show our appreciation by staging a grand show to make them proud of us.
- Muzi Mkhwanazi
Volunteers - serving behind the scenes
Almost 5 000 volunteers have been chosen to help with different tasks during the Confederations Cup. They will be ambassadors for South Africa and will play a very important role in giving the world a positive image of our country.
Volunteers will serve in areas like fan parks, transport, information services, hospitality and logistics. Training will include skills like how to receive and treat important guest, how to treat angry fans, understanding the behaviour of fans from different places around the world and answering visitors' queries. They will also learn about the game of football and its culture.
The skills-training programme started at the end of February. Training of volunteers forms part of government's commitment to improving the skills of South Africans through the Joint Initiative for Priority Skills Acquisition (Jipsa). It is also part of the benefits of hosting both the Confederations Cup and the 2010 Soccer World Cup.
Training is taking place in all the host cities of the Confederations Cup. They are Johannesburg, Rustenburg, Pretoria and Bloemfontein.