AS the final piece of Durban's Moses Mabhida Stadium's beautiful arch was recently lifted into place, a large crowd saw the historic event from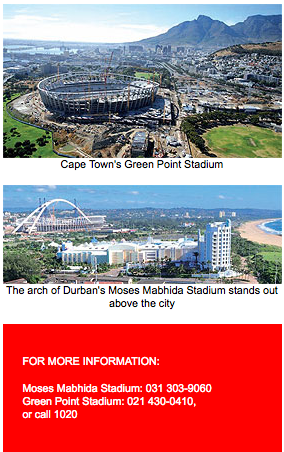 the stadium's visitors' centre. Visitors' centres operate side by side with construction. They give visitors an opportunity to watch the stadium's progress and see a different view of the city.
Of the ten 2010 Soccer World Cup stadiums, the Durban stadium and Cape Town's Green Point stadium have visitors' centres. They are operating side by side with construction.
The Green Point stadium's new visitor centre was opened in December 2007. Durban's Moses Mabhida Stadium's visitors' centre was opened in January 2008.
Plans and progress
The Moses Mabhida Stadium visitors' centre keeps people informed about plans and progress ahead of the World Cup. This includes information about the stadium's design and construction, as well as other 2010 plans.
Visitors to the centre can watch construction from the upper viewing deck.
This stadium, with its beautiful modern arch standing out above the city, is the only one which can host events like the Commonwealth Games and the Olympic Games.
Schools
Schools are encouraged to bring learners to the centre to share in the excitement of the build-up to 2010. The centre makes construction and development more understandable to them and gives them information on the types of careers offered in the construction industry.
Wheelchairs
The visitors' centre is also accessible to people in wheelchairs. The centre is open to all and entry is free. Groups of more than 10 people should make an appointment to avoid crowding.
Tourist attraction
The Green Point Stadium's Visitor Centre is already a popular tourist attraction. It allows visitors to see the construction site and progress of the stadium from a viewing platform. It also gives opportunities for learning about the building process.
The centre has an audio-visual facility, an exhibition of soccer-related items and a model of the stadium. It also has a 150-seat auditorium and a boardroom.
The centre is open to all. But there is an entrance fee of R40 for adults and R20 for students and pensioners.
- Mbulelo Baloyi