A group of 145 farmers in Nkandla, KwaZulu-Natal, started a co-operative called the Nkandla Herb Growers group in 1999. For the past nine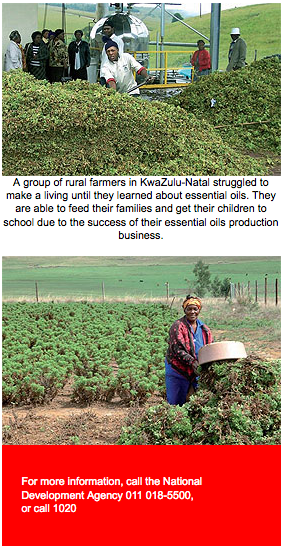 years, they have been running this fast-growing business on 10 hectares of land. It will soon grow to 40 hectares owing to extra land they got from the local Nkandla Municipality. This will help them increase their production of essential oils.
Essentials oils are taken from herbs and used in perfumes, bath foams and massaging oils.
Community Trust
The Nkandla Herb Growers is run by a community trust called Ikusasalethu Trust. "We are all benefiting from growing herbs because there is a huge demand for the oils we produce," said Trust chairman, Mr Henry Mahlobo.
He said the local farmers started farming essential oils after an international non-governmental organisation told them about it. The organisation was working on anti-poverty programmes in the area. The local small-scale farmers used to farm maize meal, beans and sorghum, but stopped because of the high costs of farming. They were advised to change to essential oils as the costs were low and harvesting is done three times a year.
Funding
"In 1999, we came together as farmers, mainly women. Tests with different herbs showed that Rose Generium and Rosemary were most suitable for farming in this area," Mahlobo said.
After harvesting their product, they had to transport it to a commercial farmer who owned a distillery near Melmoth. Because this was very expensive, the Nkandla Herb Growers asked for support from the National Development Agency (NDA) and the local municipality.
The NDA gave money to build a distillery plant in the Nkandla. The Nkandla Local Municipality donated extra land to the farmers. They also got funding from the Uthungulu District Municipality.
In addition, they got support from the provincial Department of Economic Development and funding from the Gijima Fund.
Gijima is a local economic development programme funded jointly by the European Union and the KwaZulu-Natal Provincial Government.
Seedlings
The herb growers are now supplying herbs to four local companies. Two of these companies are in KwaZulu-Natal, one in Gauteng and another one in Cape Town.
"We are now growing our own seedlings and selling them to essential oils farmers from outside Nkandla," Mahlobo said. "We also have our own plant where we distil the product, put it in bottles and label it." Distilling means the oils that are in the plants are taken out of the plant so that it can be bottled.
- Mbulelo Baloyi