Depending on the season, Ernest Gwala, from Mandeni in KwaZulu-Natal, planted maize, potatoes and dry beans to feed his family. He was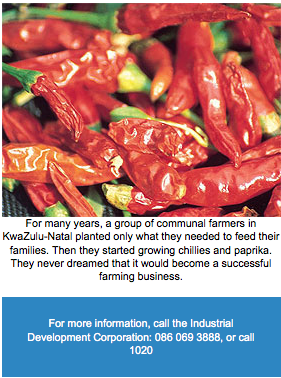 working with a group of farmers from the Mathonsi Divine Co-operative in Mandeni. When the crops were harvested and they had enough for their families, they sold what was left during pension pay-out days.
Test basis
It was only in the late 1990s that the farmers started planting chillies and paprika on a test basis.
"The local agricultural advisers encouraged us to plant chillies and paprika. They said we could make some money as there was a demand for this product," Gwala said.
With help from the Ilembe District Municipality and the provincial Department of Agriculture and Environmental Affairs, the farmers began farming chillies and paprika on a full-time basis.
Markets
The Ilembe District Municipality started looking for markets where the three local co-operatives could sell their products. They are Khelelani Community Trust in Maphumulo Local Municipality, the Bulwer Farm in KwaDukuza and the Mathonsi Divine in Mandeni. More than 250 small-scale farmers belong to these co-operatives. Most of the members are women.
The Ilembe District municipality also helps the communal farmers to deliver their produce to African Farms agricultural-processing plant in Glen Anil, north of Durban. Here the chillies and paprika are processed and turned into products. They then find their way into supermarkets all over the country.
Exports
The planned opening of the Dube Trade Port in La Mercy is a possible export opportunity for these farmers. The municipality also plans to set up an agricultural processing plant and a pack house.
Gwala said the planned agricultural processing plant would help them to add value to the produce like making chilli sauces. There will also be a storage and ripening room, as well as a pre-packaging room.
"Since we started growing chillies and paprika, we have had a regular income. With chillies and paprika we don't have to wait a long time before we harvest," he said.
Spice Growers Association
The KwaZulu-Natal Spice Growers Association supports the co-operatives. The Association was started in 2002 to look into the problems faced by small-scale farmers in the production and marketing of their products.
The Association is now helping more than 230 small-scale farmers in other areas of KwaZulu-Natal who are growing paprika, chillies and garlic. Through the Association's Agricultural Tourism Programme, small-scale farmers are linked with supermarkets, hospitals and hotels where they can sell their products
- Mbulelo Baloyi