The Confederations Cup host cities are buzzing with activity as they are getting ready for the games. Stadiums to be used for the Confederations
Cup are Ellis Park in Johannesburg, Loftus Versfeld in Pretoria/Tshwane, Mangaung/Bloemfontein's Free State Stadium and the Royal Bafokeng Sport Palace in Rustenburg.
Ellis Park
The City of Johannesburg will host the opening match and final of the Confederations Cup. The upgrade of the stadium is complete and the team is very happy with the work that has been done.
All that still needs to be done is cleaning up and upgrading the areas around the stadium to get it ready for the thousands of fans expected for the Confederations Cup, as well as the 2010 World Cup.
Opening round matches to be played here are South Africa against Iraq, Italy against Egypt, and Iraq against New Zealand.
Bloemfontein
Work on the Free State Stadium, which was falling behind schedule, is now well on track and will be completed on time. The major work on upgrading the western grandstand has increased the stadium's seating from 38 000 to 45 000.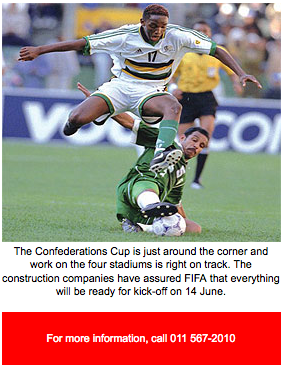 Opening round matches to be played at the stadium are Brazil against Egypt, Spain against Iraq and South Africa against Spain.
Rustenburg
Upgrading the Royal Bafokeng Stadium is progressing well. By the end of February, 95 per cent of the stadium had been completed. A new access road to the stadium will be completed by April and work on a media centre is almost complete.
Opening round matches to be played here are New Zealand against Spain, South Africa against New Zealand and the USA against Egypt.
Pretoria/Tshwane
Upgrading of Loftus Versfeld stadium is complete. The roof over the eastern pavilion was the single biggest job.
Opening round matches to be played include a clash between Italy and Brazil on 21 June. It has sold more tickets than any other game in the tournament so far.
Other opening round matches to be played here are the USA against Italy and the USA against Brazil.
- Muzi Mkhwanazi