A number of cholera cases have been reported in the country lately. The disease can be prevented and treated successfully, but if it is left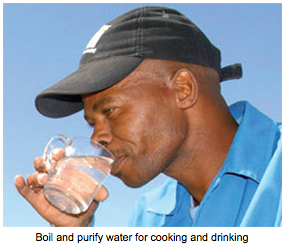 untreated, it can cause death. Applying simple hygiene rules can save lives.
Water and food infected by cholera germs was probably the main cause of the outbreak of cholera in the country. A lack of proper water supplies and poor hygiene in certain areas added to this.
Most of the reported cases and deaths were in Mpumalanga and Limpopo. Cases have also been reported in Gauteng, the Northern Cape, KwaZulu-Natal, the Free State and the Eastern Cape.
People living in areas where these cases have occurred are urged to be extra careful to avoid getting the disease.
Response teams
The Department of Health is doing everything it can to prevent the disease from spreading. It has sent trained cholera outbreak response teams to help the provincial authorities in the worst affected areas. The department is also setting aside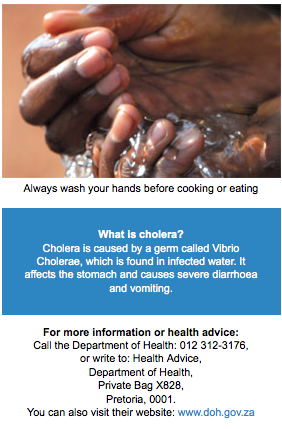 extra money to help fight the disease.
In addition, the department is working together with other departments to check water quality and to ensure safe water supplies and sanitation.
Medical volunteers in the private health sector have also been asked to help treat cholera patients.
Educate
Government has already educated hundreds of people, especially in the worst affected areas, about preventing and treating the disease. In co-operation with the provincial health departments, officials have gone to schools, churches and community organisations to teach people about the dangers of cholera.
Door-to-door visits
In Mpumalanga, the health department started an intensive health education programme. It includes door-to-door visits and handing out thousands of stickers and leaflets about cholera.
They have also been helping people to purify water in the affected areas by handing out about five million millilitres of Jik and more that 16 000 packets of chlo floc disinfectant.
How are people infected?
You can get infected if you:
drink unpurified water that contains cholera germs
eat food infected with cholera germs
eat food with unclean hands
use infected water for household purposes like washing and cooking
have contact with an infected person's stools or infected bedding
wash clothes which contain the cholera germ in a river or throwing infected water into the main sources of water like rivers or dams.
Guidelines
The National Institute for Communicable Diseases reviewed its cholera guidelines to ensure that it deals with this and future outbreaks of the disease. The guidelines are sent to the health departments of all the provinces.
The Hospital Association of South Africa also set up a cholera desk to help contain the spread of the disease.
How can I prevent cholera?
Wash your hands after using the toilet
Wash your hands after changing your baby's nappies
Wash your hands before cooking
Boil and purify water for cooking and drinking
Wash fruit and vegetables thoroughly before eating
Store purified water in a clean container and keep it covered
Keep food covered
Do not play or swim in or use water from streams, rivers and dams
Cook fish thoroughly before eating
What are the signs of cholera?
Signs of cholera include:
Severe watery diarrhoea. This means the patient has a runny stomach, which cannot be controlled.
Nausea, which leads to vomiting and muscle cramps.
Dehydration. This means the body loses water, natural salts and other nutrients because of diarrhoea and vomiting. It can range from mild to severe and can lead to coma and even death within a few hours.
How to purify water
Boil water for at least ten minutes and leave to cool before drinking.
Add one teaspoon of bleach to 25 litres of water and mix well. Leave the water in the container overnight or for at least for two hours before using it. If little water is needed for use immediately, add five drops of bleach to one litre of water and leave for half an hour before using it.
Treatment of a patient
Anyone who shows any signs of cholera must visit a hospital or clinic as soon as possible for treatment. Treatment involves replacing the fluids and salts lost through diarrhoea and vomiting.
As an emergency measure at home, you can mix one litre of clean, cooled, boiled water with eight level teaspoons of sugar and half a teaspoon of salt.
Give the patient as much of this mixture as possible, at least two cups after each stool.
- Muzi Mkhwanazi