A group of young people are using their business and farming skills to help the economy grow, develop skills and create jobs. From a small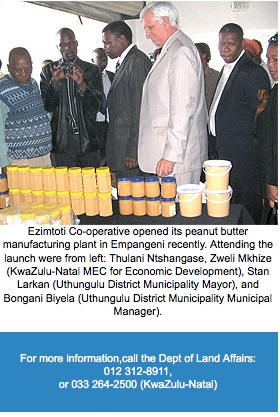 beginning they started a business with funding from government. Different government agencies have helped them with training in business management skills.
EIGHT youths from Kwa-Mbonambi in KwaZulu-Natal are showing that young people can be successful farmers.
After finishing school, the group of five men and three women, couldn't afford to study at tertiary institutions. But they were strong-minded about making a success of their lives. They decided to form a co-operative business. This is how the Ezimtoti Agricultural Co-operative came about in 2005. A co-operative is a group of people who get together to form a business. As a group they are in a better position to get funding.
Farm
The Ezimtoti Agricultural Co-operative now has a 285-hectare farm called Bonavista Farm in the Uthungulu District.
The farm is used for planting sugar cane and peanuts, as well as fruit. They use organic farming methods, which means they are not using pesticides and chemicals in their crop production. The co-operative was able to buy the farm through the Land for Redistribution and Agricultural Development (LRAD) programme of the Department of Land Affairs.
They recently opened a peanut butter manufacturing plant in Empangeni. The co-operative also set up a carbonated soft drink plant and they produce animal feed and peanut oil.
Supermarkets
The co-operative has talked to the KwaZulu-Natal Health Department about supplying peanut butter to some of the province's hospitals. This was done in co-operation with the provincial Department of Economic Development.
"We also had talks with two major national retail supermarkets because we want to supply our products to as many buyers as possible," said founder member and Ezimtoti marketing manager, Thulani Ntshangase.
Learnerships
The co-operative helps to develop skills by taking young unemployed graduates for learnership programmes. "We give internships for students to help them develop their business management skills. At the same time we are creating job opportunities," Ntshangase said.
They also teach small-scale farmers about organic farming.
Trade Port
The co-operative recently got an export permit from the Department of Trade and Industry (DTI). This means they can sell their products to countries outside South Africa. They will do this with the help of the new Dube Trade Port, which will handle the exporting of local products.
The Trade Port is being built near the new airport at La Mercy, north of Durban. It will open its doors next year
- Mbulelo Baloyi