WINNING LETTER
Opportunity knocks but once
It is high time for every South African to use the once-in-a-lifetime opportunities the 2010 World Cup is bringing to our country for our own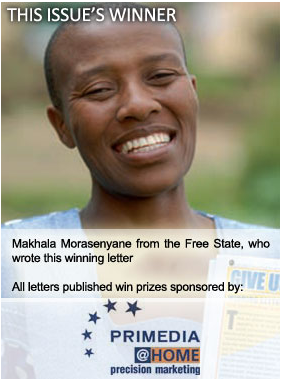 benefit.
It is bringing many visitors from many nations to South Africa. So let's get together and create small clubs to run our own businesses, grow vegetables, start poultry farming, or centres to design and make cultural clothes, or make beautiful things from grass and trees that will attract tourists. We can beat poverty by making money from this.
For the youth who walk around in the streets doing nothing and unemployed people, it's never too late to change your mindsets. Let us all make a difference to our lives and benefit from 2010
- Makhala Morasenyane, Lindley, Free State
Crime leads to jail and death
Thumbs up to the South African Police, especially crime units, for fighting ATM bombings. To crime planners and crime doers, you better think twice and change your minds. Criminals, don't fool yourselves by enjoying short-cuts to "success". There is no future in doing crime, the wages of doing crime is jail or death.
Let us all unite and work hand-in-hand with government in fighting crime. Let us stand up and do things right for ourselves instead of robbing others of their belongings.
- Zola Galela, Adelaide, Eastern Cape
Never fail to try
It's sad how some young people have given up on life, while others are still on a mission to fight for what they believe is rightfully theirs.
I'm 25 years old and I am working hard to fulfil my dreams. It's a long journey. You may feel that you are going nowhere and it is taking too long, but you will reach your destination as long as you don't end the fight before it is won. Nothing is impossible. A wise man once said, "Never fail to try, rather fail knowing that you have tried."
- Kenneth Mokone, Boleu, Mpumalanga
Don't let failure stop you
Many people in South Africa find themselves unemployed and struggling in life and blame it on failure. This has never been an issue to many successful people.
People have to stop blaming their circumstances and learn to strive hard to overcome life's challenges. If you trip and fall, get up, look back and evaluate your steps, then try again! Stop using "if only..." as an excuse. Don't worry if you are not the best. What matters is that you have done your level best.
- Ntjabane Nthatisi, Phuthaditjhaba, Free State.
Tolerance creates peace
Human dignity can only be maintained if we are all tolerant towards each other. The world belongs to all human beings of different cultures and personalities.
Accepting each other as fellow humans belonging to only one human race, will make this world a much better place to live in. Tolerance is one of the smoothest avenues towards everlasting peace in the world.
- Abraham Pitso, Kereng, North West
South Africa belongs to all who live in it
For the past years, South Africa has been known as a country of peace and unity. But the year 2008 will be remembered as the year of xenophobia. Unfortunately, it is still happening in some places.
Why can't we accept that we South Africans are the "rainbow nation"? We should accept whoever lives in our country. They came here because they thought they would be safe. Why can't we be one big family and work together to create peace in our land.
- Barbara Luvhengo, Mungomani, Limpopo
You came to my rescue
I have always wanted to follow a career in teaching, but had no money or a bursary. Your November issue really helped me a lot. After reading it, I called 1020 and they gave me info on how to contact universities. So thanks to you, I am glad to report that I am admitted to the University of Limpopo and got a Funza Lushaka bursary.
I often do some part-time teaching for ABET and it was difficult for me to teach them about cabinet ministers and deputies. To my rescue I have found a list and photos of all the Cabinet ministers and deputies. We are now up to date with the recent changes.
Keep up the good work and inform us about changes, developments and transformation in our beloved country.
- Ernest Leboho, Lebowakgomo, Limpopo
A great job
I love your magazine. It feeds me with important information and ideas. I am now able to assist people around my village with information concerning grants, bursaries and training that government provides. You're doing a great job and I can't wait for the next issue.
- Sibonelo Mbatha, Rorkes Drift, KwaZulu-Natal
They deserve love
We must deal with HIV and Aids as an illness like any other. It is not a death sentence. But we must be strong and stand together to fight it by living healthy life styles, taking precautions and taking medication. I've seen people die from it and this has given me more understanding for those who suffer from it. It surprises me to see that there are still people who laugh and tease those affected and infected by HIV and Aids. Please guys, let's just give them the love and respect they deserve.
- Nakedi Makgobatlou, Ramokgopa, Limpopo
Clean up and beat poverty
Let's stop throwing rubbish around all over the place. We know littering is the wrong choice. We know that dumping rubbish is polluting our land and it's not good for our health, it can make us sick.
Why don't we rather clean up our land and make money by collecting rubbish to recycle. Let's collect plastics, paper, bottles and cans and sell them to recycling companies.
- Tsholofelo Nkadimeng, Dennilton, Gauteng