When Makhoszane Gwala lost her job four years ago, she struggled to survive. But since she got involved in the Siyazenzela Food for Waste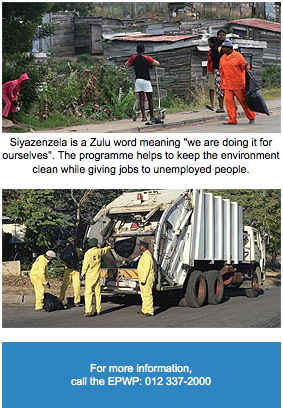 Programme, she is able to support her four children.
Single mother
Gwala is a single mother of four and lives in Jika Joe Informal Settlement in KwaZulu-Natal. She used to rely on the child support grant for her youngest child to feed her family. But the Siyazenzela project changed her life. "Since I started working on the project, I don't have to worry about where my next meal will come from," she said.
Municipalities
Siyazenzela was started on a trial basis in the villages of Masenenge, Mkholombe, Bhobhoyi and Louisiana outside Port Shepstone in KwaZulu-Natal.
Bigger municipalities like Msunduzi Municipality in Pietermaritzburg and eThekwini Metro have joined the programme too. It has also been started in the Eastern Cape and the Fetakgomo Municipality in the Sekhukhune District in Limpopo.
Fighting poverty
The aim of the programme is to keep the environment clean, while at the same time fighting poverty. In exchange for collecting waste and cleaning up their communities, people get food parcels every second week. The parcels contain basic items like rice, flour, maize, beans, sugar, salt, tea, soap and vegetables.
At the end of every month, the workers get food vouchers.
Work opportunities
The Food for Waste Programme was started in 2007 by the Department of Public Works as part of its Expanded Public Works Programme (EPWP).
The programme was copied from a very successful waste-collection project in a town called Curitiba in Brazil, South America.
It is based on the idea of hiring communities to collect and deliver household waste to a common spot. The local municipality collects the waste in exchange for food parcels. It is then taken for recycling. Recycling means waste materials are used to create new products.
Beneficiaries
Each area has 50 beneficiaries who collect the waste. This includes two supervisors.
The beneficiaries work in pairs of two in an area that has been chosen for them. They are given uniforms and working tools.
They do door-to-door collection of waste from households, pick up litter within their areas, sweep the streets and generally keep the area clean. On collection day, they deliver all the waste from their working area to the collection point.
Training
The workers are employed for 12 months. The condition of employment is that they must agree to attend training courses offered by the municipality involved in the Food for Waste Programme. This helps to develop their skills.
- Mbulelo Baloyi