The Itshokolele Community Project started as a community saving scheme in 1998. Members of the scheme saved money and offered loans to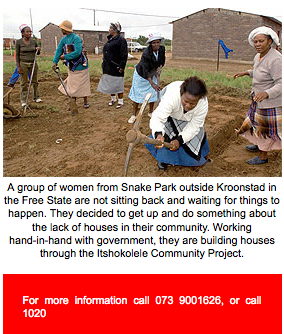 people who wanted to build their own houses. The loans ranged from R1 000 to R3 000.
Because most of its members were unemployed and some elderly, many couldn't afford to repay the money.
Government
Amelia Nakeli, a proud house owner and a co-ordinator of the Itshokolele Project, said they then approached government for financial help.
They were asked to make a list of all the people who needed houses. The list had to be handed to the local municipality, who checked it and approved funding to build the houses.
Applicants whose grants were approved got about R45 000. Apart from the housing grant, they also got land to build on. Fifty grants were approved.
The housing grants are not given directly to members, but are regulated by an independent company that manages the fund. The community members order building materials and forward their receipts to the company. The company then pays the suppliers and builders.
So far, 39 houses have been completed. The outstanding 11 houses are in the process of being built.
Save money
Instead of the community using a construction company, they decided to build their own houses with the help of local builders. In this way they not only save money, but create jobs.
They also save money through things like not plastering the houses inside and not fitting bathtubs. They agreed that the owners of the houses would add these items later when they could afford it.
During construction, members of the project help the builders by digging foundations, passing on bricks and mixing cement. This ensures speedy completion of the houses while also cutting costs. Members of the project are not paid for their services.
Loans
The Itshokolele Project, which started with only a few members, has grown a lot. Hundreds of people who need houses are now joining them, Nakeli said.
Project members are still continuing with the savings scheme. The money is used for loans to house owners to improve their houses.
"We are proud of ourselves and grateful to our government. The houses show that working hand-in-hand with government nothing is impossible." Nakeli said.
- Muzi Mkhwanazi