Advertorial
The Amahlathi Community Work Programme under the Department of Cooperative Governance and Traditional Affairs is helping people's dreams become reality.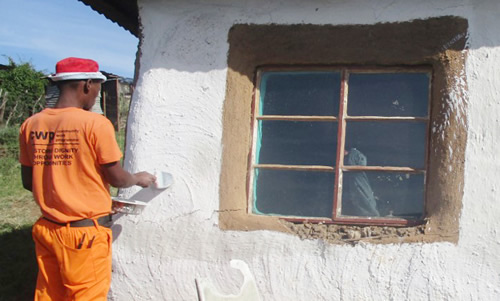 From a young age, Masixole Magwevana had a dream of becoming a paramedic. Today his dream is a reality, thanks to the Community Work Programme (CWC) in Keiskammahoek, Eastern Cape.
Keiskammahoek is a rural town in the Amahlathi Local Municipality, one of the seven local municipalities that make up the Amathole District Municipality.
In an effort to uplift the poverty-stricken town, the Department of Cooperative Governance and Traditional Affairs (CoGTA) established a CWP site there in 2009.
The aim was community development, poverty alleviation through work opportunities for the poor and unemployed, and the facilitation of positive family changes.
The site, implemented by Siyakholwa Development Foundation (SDF) on behalf of CoGTA, started with 12 participants in June 2009. Just a year later the number had increased to 874.
By 31 March 2017, 1 744 participants were enrolled in the Amahlathi site of the CWP, with a further 385 participants having benefited from and left the programme in the previous 12 months.
Magwevana spent five years in the CWP. This opportunity, and mentoring by SDF, allowed him to fulfil his lifelong dream. He  is now a qualified paramedic working in Fort Beaufort.
His journey started with working at the CWP for just eight days a month. He then progressed to become a supervisor, getting the training and work experience that allowed him to apply to be a paramedic.
The CWP gives participants much-needed experience, but they do not go home empty-handed. In 2016/17 alone, more than R16-million was paid to Amahlathi CWP participants as wages. This allowed them to both support their families and contribute to the economy of Keiskammahoek.
Vegetable gardens
The Amahlathi CWP not only gives participants skills to start careers, it also helps uplift the community.
The Nutrition and Food Security Support programme is carried out in partnership with the Nelson Mandela Metropolitan University (NMMU) and Bountiful Grains. Supervisors and participants are trained to develop and maintain vegetable gardens and the compost piles that fertilise them.
Communities are trained to plant the gardens – without ploughing – at schools, crèches, hospitals, orphanages and old-age homes. The compost piles allow them to plant without chemicals, to ensure environmental sustainability.
Peach, citrus and other fruit trees have also been successfully planted. Women have been trained in jam-making and bottling. The programme has also introduced a beekeeping project, to  help people start a honey business.
Saving soil and water
Another initiative, also in partnership with NMMU and Bountiful Grains, is planting vetiver grass to prevent soil erosion and building stone check dams to reclaim soil lost to dongas.
A nursery now grows out 10 000 vetiver plants a year to stock new areas. This labour-intensive project conserves water and nutrient-rich soil on communal lands. The removal of thirsty wattle plants from waterways also helps save water.
Maintaining community assets
The CWP performs even more services for the community. Participants have painted the SS Gida Hospital, the Lower Gxulu Clinic, and the primary schools of Sivuyile, Rabula and Masincedane. They have also fenced the main graveyards in Keiskammahoek. This all contributes to an aesthetically improved community infrastructure.
Villagers are also repairing and constructing mud and wattle crèches. New brick and mortar crèches have been built recently, while some villages have cleaned and constructed dams, fixed and built bridges, and repaired school infrastructure.
A community hall at Tshoxa village was completely refurbished by community members through the programme. This maintenance of public spaces and facilities is making Keiskammahoek a more pleasant town to live in.
Support to schools
CWP participants are also fixing furniture at schools in the area. So far they have repaired 3 056 desks, 2 444 benches and 622 chairs.
Over 50 CWP teacher assistants were also trained to run a life skills programme in Keiskammahoek's 54 schools. The programme warns learners about teen pregnancy, absenteeism and dropping out of school. In addition, more than 1 500 learners have gone through a reproductive and puberty education programme.
Unemployed matric-level young people get the chance to be teacher assistants in schools, and child-headed households get help preparing food.
The programme has also trained 33 mature women to provide social services to children and others. These include support to families affected by HIV and AIDS, help with social grant applications, and combating the abuse of vulnerable community members.
Compost piles and nutrition gardens are also established in schools and crèches, while fencing is done where necessary. Water tanks have been installed at crèches and schools, the grass cut regularly and security supplied.
Magwevana is not the only CWP participant to realise his dreams. Sibabalwe Tywabi is another. After starting at the CWP, Tywabi showed great potential and was eager to attend as many of the CWP training sessions as he could.
The training allowed him to develop and gain work experience. After spending time as a supervisor, he focused on training and mentoring other participants.
In 2014 he went for a successful interview at SS Gida Hospital. He is now a full-time pharmacy assistant at the hospital, and studying to become a qualified pharmacist. This would never have been possible without the CWP.