Findings from a survey collecting data about HIV and behavioural trends will shape the country's health policies.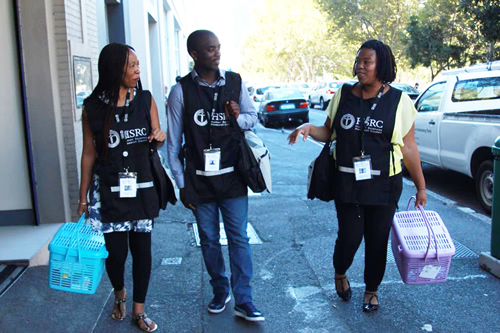 Sixty thousand pre-selected individuals are being encouraged to open their homes to Human Sciences Research Council (HSRC) field workers.
The relevant households have been chosen to be part of South Africa's National HIV and Behaviour Survey.
The survey started early in December in KwaZulu-Natal.
Researchers have completed 12 000 interviews and are now turning their attention to the Western Cape and Gauteng.
"We thank the many South Africans whose households were randomly pre-selected to participate and their families have gladly accepted to answer the socio-behavioural survey questions and also offered a few drops of blood for HIV testing," said Professor Leickness Simbayi, Deputy Chief Executive Officer for Research and lead investigator.
Volunteer, it matters
The HSRC is encouraging those chosen to participate even though the study is voluntary. The more people who participate, the more representative the results will be.
"However, a significant portion of the public has been reluctant to take part in the blood sample collection part of the survey. The reluctance is a major concern for the whole team," says Simbayi.
The aim is to study new infections, count the number of people on antiretroviral (ARV) therapy, and explore resistance to medication. The field workers also ask questions about people's behaviour and the social factors that put them at risk of HIV infection.
The information will be used to evaluate how well HIV programmes are working. Results are confidential, but if you want to check your status, mobile test clinics will be set up in the areas where the HSRC fieldworkers are conducting the survey. 
Findings from the survey will shape the country's health policies.
"With another four to five months to go in the study, I would like to appeal to all the pre-selected households to offer their full co-operation to our field workers.
Know your status
The Aids Foundation of South Africa says an HIV test reveals if there is HIV in the body.
The test detects the antibodies the immune system produces in response to HIV.
For most people, it takes three months for these antibodies to develop. For a few people, it can take up to six months. During this "window period" of early infection a person is at their most infectious.
Generally, it is recommended that you wait three months after possible exposure before being tested for HIV.
You can be tested for HIV at health facilities such as a local clinic, the offices of a private doctor, a local health department, hospitals, family planning clinics and sites specifically set up for HIV testing. Always ensure that the testing place provides counselling.
The results of the HIV test must be kept absolutely confidential.
Before you take an HIV test you must give informed consent. Ideally it is given individually, in private, in the presence of a health care provider.