Written by Nonkululeko Mathebula
The Gauteng Education Department's new school of specialisation recently launched in the Magaliesburg is one of 27 high schools set to improve learners' hands-on experience in key skills needed to grow the economy.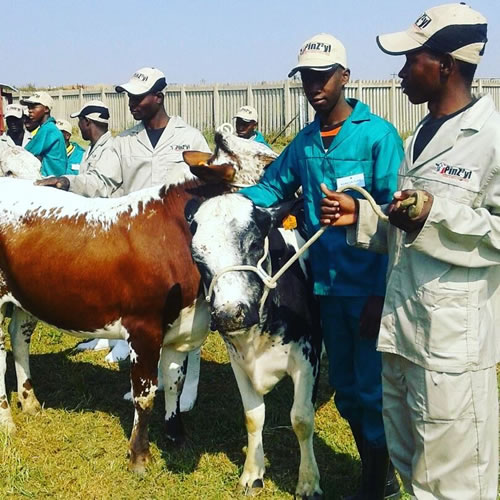 A new specialised secondary school in the Magaliesburg will add hands-on training and experience in to learners' theoretical education, improving their skills – and their chances of getting a job.
The Magaliesburg School of Specialisation, recently launched by the Gauteng Department of Education, will incorporate subjects in such fields as agriprocessing, agriculture, mining, tourism and veterinary sciences into its curriculum.
The new school was established in partnership with the Department of Higher Education's Westcol Technical and Vocational Education and Training college and other stakeholders, to help overcome the skills shortage in the region.
Development corridors
Gauteng Education spokesperson Oupa Bodibe said his department planned to launch schools of specialisation in each of the province's five development corridors. The aim is to nurture talent across key disciplines, injecting sought-after skills into the economy.
"We have decided to rebrand and reorient the technical schools into schools of specialisation where theoretical learning and practical learning are combined, as well as some form of work experience," Bodibe said.
"This is part of our efforts to ensure that, by the time a learner exits high school, they've got tangible skills in their chosen fields, giving them an advantage in the job market.
"They would also be in a position to open a business, go for further studies and join a stream in a technical field," said Bodibe. At least 27 schools of specialisation will be opened by reorienting some existing schools, he said.
Career opportunities
Located in a region dominated by farming and tourism, the school will major in Agriculture and Hospitality Studies.
The specialised school was converted from an existing school by adding vocational and practical features to it. It has a cattle display, a hospitality display, a vegetable garden, a flower display and a piggery, as well as a display of farm equipment.
Bodibe said the specialisations would be formally implemented in the syllabus for Grades 10 to 12 next year.
"Specialists in the agriculture and hospitality sectors will offer motivational talks that will expose learners to various career opportunities and studies beyond their Grade 12 qualification," he said.
"Although only learners in Grade 10 to Grade 12 will be exposed to this, those in Grades 8 and 9 will be exposed to a variety of activities linked to the specialisation, while sticking to their current CAPS curriculum."