Excellence is not an act but a habit, Minister of Sport and Recreation Thulas Nxesi tells the inspiring audience at the Region 5 African Union Sports Council Awards.
Southern Africa's top sportsmen and women were honoured at the Regional Annual Sport Awards held recently.
Organised by Region 5 of the African Union Sports Council (AUSC), the awards were held in Kempton Park to honour champions from Angola, Botswana, Lesotho, Malawi, Mozambique, Namibia, South Africa, Swaziland, Zambia and Zimbabwe.
The AUSC uses sport to build relationships and cooperation between African neighbours. It also aims to encourage the participation in sport of women and people with disabilities.
The awards are designed to showcase the best of the region's sporting talent and recognises not only those that excel on the continent, but those who have lifted the profile of African sports internationally.
The awards recognised African excellence in 11 categories, honouring athletes and teams, coaches, journalists and national sporting bodies who have successfully implemented AUSC programmes.
For the second year, South Africa hosted the event, which drew dignitaries and sport celebrities from across the 10 countries.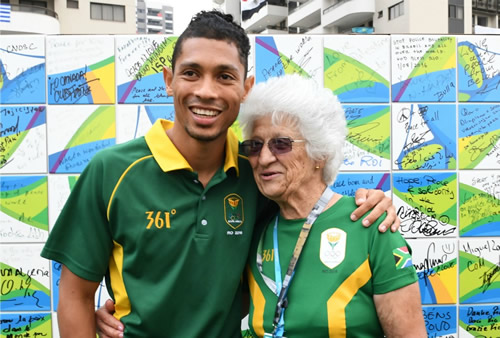 While he was honoured to host the event, Minister of Sport and Recreation Thulas Nxesi said it was a bigger honour to have local athletes steal the limelight.
Winners and champions, all
South Africa excelled, winning six of the 11 categories.
Like he did last year, 400m Olympic champion and world-record holder Wayde van Niekerk walked away with the Sportsperson of the Year award. His coach, Anna Botha, received the nod for Coach of the Year.
Other winners were Team of the Year Mamelodi Sundowns, the Confederation of African Football (CAF) Club of the Year for 2016, and Sportswoman of the Year Caster Semenya, the 800m 2016 Olympic gold medalist.
Stanley Mutoya, the chief executive of Region 5, reminded the audience that the awards are about recognising excellence.
"We salute South Africa for their admirable dedication to the African cause," Mutoya added.
"These awards honour a country that has taken a leadership role in the implementation of the AUSC's programmes, has well-executed sport and recreation development programmes and represents athletes and teams that are excelling and bringing home medals from international championships and events."
Journalists win too
Namibia also fared well, taking awards in four of the five categories for which they received nominations, including Junior Female Sportsperson of the year, Sportsman and Sportswoman of the year with a Disability as well as Journalist of the Year for 2017.
"This is for all the women journalists of Africa; this is our time to shine," said winning journalist Kaino Iyaloo Ndeumono to hearty applause as she accepted her award.
As he wrapped up his welcome on the evening, Minister Nxesi said, "Let me conclude by congratulating the nominees and the award winners – you are all role-models and champions.
"You are living proof of the sentiments expressed by the Greek philosopher, Aristotle, and I quote: 'Excellence is an art won by training and habituation. We are what we repeatedly do. Excellence, then, is not an act but a habit.'"