Youth Focus
Are you a young go-getter looking to start your own business? Then visit the IDC's #SAunder36 website, a one-stop shop of advice and financing options for young entrepreneurs.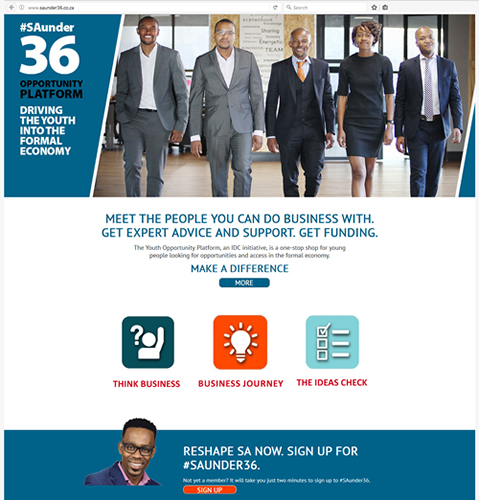 A new online portal is opening the doors of business for young entrepreneurs. The Industrial Development Corporation's #SAunder36 website (www.SAunder36.co.za), described as a "Youth Opportunity Platform", is a one-stop shop for youth who want access to the formal economy. 
The site gives youth the chance to network, get advice, build their business ideas and apply for finance.
Industrial Development Corporation (IDC) public relations manager Mandla Mpangase says it was built to help youth entrepreneurs who want to pursue businesses but do not know where to start.
"The portal has many functions which our youth can utilise for free. For example, you can get advice on how to start a business.
"They can also use the platform to test whether their ideas are feasible. We have business experts to help them with any information they need. Our experts have walked the walk and know the challenges faced by youth entrepreneurs."
Innovation
Mpangase says development finance institutions like the IDC have to find innovative ways to market their services.
"Our youth are technology savvy. They want to know what the IDC has for them at the click of a button.
"The objective of the portal is to move us away from the conventional into the more interesting social media marketing space. Another interesting aspect of the portal is that it will be managed by youth," says Mpangase.
Billions in finance
IDC chief executive Mvuleni Qhena says youth participation in the formal economy is an important part of the corporation's strategy.
"Over the past three years, the IDC has committed more than R1.2-billion in support of youth-owned businesses, and we are making an additional R4.5-billion available during the next five years," Qhena says.
"Access to funding is one of the major stumbling blocks for new businesses. The IDC's mandate is stimulating the economy, so we are able to take a more patient approach and, within specific funding schemes, offer preferential lending rates compared to commercial banks.
"We want to help businesses grow so that they can not only support the founders, but flourish in order to stimulate jobs. We take these businesses under our wing to ensure they receive all the necessary non-financial support to help them achieve success. Ultimately, our success is measured by the success of the businesses we fund."
Qhena says in order for South Africa to address the tremendous challenge of youth unemployment, initiatives such as #SAunder36 have to be matched by others.
"I put this challenge to our partners in the private and public sector – let us join hands to actively seek workable solutions. And to the youth –  your responsibility is to work tirelessly to improve your skills so that the business sector looks forward to employing you due to the knowledge, confidence, energy and value you will bring to their business."