Youngsters in disadvantaged rural communities are being given opportunities, thanks to the Department of Agriculture, Forestry and Fisheries' (DAFF) Junior LandCare programme. 
The initiative aims to create work by harnessing rural agricultural skills to improve harvests and food security.
Junior LandCare was introduced to empower disadvantaged rural youth through skills development, school nutrition and environmental education programmes. Almost 12 500 young rural students have passed through the programme.
They have worked in labour-intensive projects involving alien plant removal, rehabilitation of wetlands and the building of fences. Transferring of skills is an important goal of the programme. Volunteers receive accredited project management, safe use of equipment and artisan training.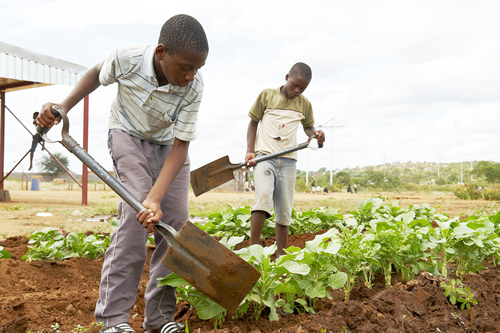 Each year a different province receives the bulk of government support but as the programme has grown, more private companies have chosen to become involved. The programme has expanded beyond schools. Youth club and community-organised projects are now considered for assistance.
As long as the project is a grassroots initiative to find solutions to pressing challenges, the project will be considered.
Volunteers
Junior LandCare is a volunteer programme that encourages young South Africans to play an active role in protecting their environment.
Volunteers identify needs in their own communities. LandCare coordinators then help the group to develop a business plan and request assistance from DAFF. Among the most successful projects are school gardens, new irrigation systems and the installation of JoJo tanks for water harvesting.
Vegetables harvested from the more than 100 school gardens are used to provide hot, nutritious meals to children.
Junior LandCare incorporates in-school programmes, such as school gardens, and out-of-school programmes that see Junior LandCare volunteers working on projects in their wider community. These include training volunteers at youth camps in financial management, health and safety and project management.
Business-savvy graduates have even moved on to become service providers to the programme while the rest have used their training to secure work.
An important factor in the success of the programme has been the "living classroom" idea. Instead of being taught in the dry style of their maths, language and history lessons, Junior LandCare lessons show them the impact their efforts make in their lives.
Please contact Junior LandCare for more information.  The Director: Land Use and Soil Management at DAFF Phone: 012 319 7685  Email:
dlusm@daff.gov.za