The recent drought reminds us that water must not be wasted. Both global leaders and South African youth are working to find sustainable ways to save our water, a precious resource essential for the growth of local communities and the national economy.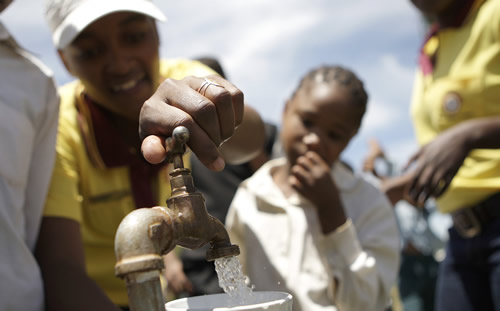 South African is a dry country, always at risk of drought. For us, water is precious and we need to save every drop. The recent countrywide drought is a reminder that we must actively work to make sure water is not wasted.
For the past 18 years the Department of Water and Sanitation (DWS) has called on young people to join the fight to save water by entering the annual South African Youth Water Prize.
The competition is a creative way to encourage the youth – school children and university students – to research and build prototypes to solve water-related challenges in their communities.
The prize is supported by the national departments of Science and Technology, and Agriculture, Forestry and Fisheries.
This year's finals of the Youth Water Prize brought provincial winners and past champions to Kempton Park in Gauteng for a week-long programme of excursions, debates and panel discussions.
Sharing knowledge
The competition is part of the 2020 Vision for Water, a DWS programme to educate youth about water management. The idea is that young people will then share this knowledge with their parents, and change the mind-set of their communities.
Past winners have included a project to remove forests of water-hungry invasive trees in the Eastern Cape, a bio-sand water filter, and research on preventing coal dust from power plants polluting water sources.
The overall winner gets to take their project to an international competition in Stockholm, Sweden, during World Water Week.
Deputy Minister of Water and Sanitation Pamela Tshwete said at the opening of the event that the provincial winners were the "best and brightest minds".
"Since 1999 the department has introduced a number of young people in the water space and these students are spread in the nine provinces. It is important for all us involved in this programme to ensure that it is sustained until all South Africans can talk and live water as part of their daily lives."
Water is a right
South Africa also recently hosted the UN High Level Panel on Water, to create guidelines for better water management across the world.
At the event, Minister of Public Service and Administration Faith Muthambi pointed out that in South Africa, every citizen has the right to clean water.
"Our Constitution stipulates that water is a human right, while in many countries water is a commodity paid for by all users, even if it is declared a human right.
"South Africa is one of the few countries that have embedded the right to water in its Constitution. The right to clean water is therefore an obligation for government to ensure access at different levels of affordability."