Muzi Pooe was born without hands. He has only one leg, which is deformed. But his disability has not stopped him from following his dreams of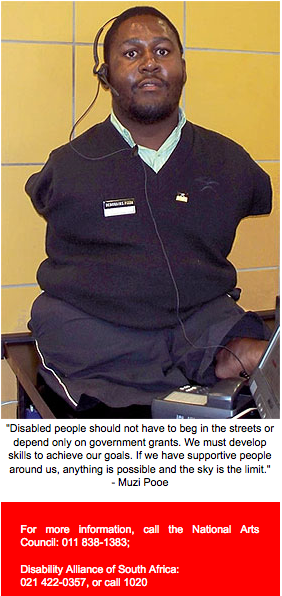 becoming a singer and a businessman.
Being disabled should never be an excuse to give up on your dreams, says Muzi Pooe. This 23-year old from Elspark, Germiston, uses his malformed left leg to write and drive his wheelchair. This is the only limb he can use.
Pooe is now learning to be a cashier at a pizza restaurant in Elspark. He uses his toes to work the till.
Singing
Since childhood, Pooe sang in the church choir. After finishing Grade 10 at a special school for disabled children, he became a gospel singer. He is now well-known in the Ekurhuleni area.
He also sings afro-pop with a band and has performed at many events organised by government. Last year, he was part of a group who sang at a farewell function for the Paralympics team before they left for Beijing, China.
The Department of Arts and Culture's National Arts Council has helped Pooe's music career to grow. "My singing career would never be where it is if I didn't get help from them," Pooe said.
Own business
"I have also worked with the Disability Alliance of South Africa where I was involved in their skills development programmes for disabled people,"
As a learner cashier, Pooe is slowly learning the pizza restaurant business. He especially enjoys the contact with customers.
"I have already talked to the head office of the restaurant and asked them for information to start my own pizza restaurant," he said.
"I am saving money so that I can go to the Umsobomvu Youth Fund for help. I hope to get half of the money I will need to apply for a franchise business of my own."
Disappointment
A disappointment led to Pooe's interest in starting his own pizza restaurant.
"In 2007, I had high hopes to get a break into the music industry after being on a popular TV show. But things didn't turn out the way I wanted," he said. He was very disappointed and became so depressed that he just stayed at home doing nothing.
Pooe's brother, Thando, wanted to help him and asked the Du Preez family who own the pizza restaurant where he worked, to give him some time off to look after Pooe. But instead they told Thando to bring his brother to the shop to learn to be a cashier.
They started training him and bought special equipment to make his job easier. "Since I have been there, I have overcome my fears and I'm positive about my future." Pooe said.
- Mbulelo Baloyi