As a leader, President Zuma reflects the resilience of his origins and persistent successes against the odds. Born in the impoverished rural hinterlands and raised by a single parent after the death of his father when he was only five years old, he grew up under the guardianship of his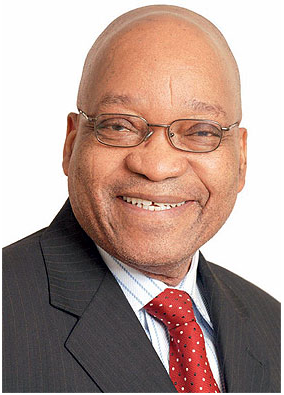 grandparents. Like the rest of his peers, he had to herd cattle and fight with sticks. His circumstances prevented him from attending school.
At the age of 17 he moved to Durban to take up employment. Given his life experience of poverty and exposure to oppression, he identified the need to fight the oppressive system of apartheid and joined the ANC in 1959.
Joining MK
He left the country in 1975 and spent 12 years in exile. He operated at the reception points in Swaziland and Mozambique for young people going into exile after 1976. He was appointed to the National Executive Committee of the ANC in 1977. He served both as deputy Chief Representative and later Chief Representative of the ANC in Mozambique.
In 1987, he moved to the ANC's Headquarters in Lusaka where he became Head of Underground Structures and later Chief of the Intelligence Department. He also served on the ANC's Political and Military Council in the mid-1980s.
Homecoming
After the unbanning of the liberation movements in 1990, President Jacob Zuma was among the first ANC leaders to return to the country in preparation for repatriation of exile combatants. He was involved in the first formal interaction between the National Party government and the ANC, which led to the Groote Schuur Minute in May 1990. This marked the beginning of formal negotiations.
President Zuma was subsequently elected Chairperson of the Southern Natal Region. He played a critical leadership role in resolving violence between ANC and IFP supporters in the province.
Deputy President
At the first internal conference of the ANC, President Zuma was elected Deputy Secretary General of the ANC. He served in the KwaZulu-Natal provincial government as MEC for Economic Affairs and Tourism. He was subsequently elected to the position of the National Chairperson of the ANC and provincial Chairperson in KwaZulu-Natal. In 1997 he was elected Deputy President of the ANC. On 18 June 1999, President Zuma was appointed Deputy President of South Africa.
ANC President
On 18 December 2007, he was elected President of the ANC in the elective conference in Polokwane. In this capacity, he led the party's 2009 fourth general democratic elections campaign. Under his stewardship and leadership, the party won a decisive majority and retained its leadership in governing South Africa.
Mr Jacob Zuma is the third democratically elected President of the Republic of South Africa. He was inaugurated on 9 May 2009.