Most people who work in South Africa's cities know that the traffic during peak hours is a big problem. One of the main reasons for too many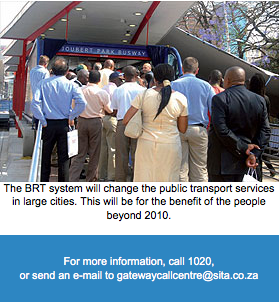 cars in our cities is that a lot of people prefer to use their cars to go to work rather than public transport.
The main reason why more people use their own cars to go to work is because public transport, like trains and buses, are not always reliable or accessible.
This leads to too many cars in the cities, which cause problems like traffic jams and accidents. The result is a loss of productivity, because people are late for work. Too much traffic also damages the environment. This is because the exhaust fumes cause air pollution.
Reduce traffic
Government has set out to change the public transport system in major cities to reduce traffic and provide a reliable and accessible service. This is in line with promises made to FIFA when South Africa was given the right to host the 2010 World Cup.
To reduce the number of vehicles during peak times, the municipalities of Johannesburg, Cape Town, Port Elizabeth, Tshwane and eThekwini (Durban) are putting plans in place for the Bus Rapid Transit (BRT) system.
Linked services
BRT is a mass public transport system. It is similar to trains, but is road-based. Presently a lot of passengers have to travel to the central parts of cities and then travel to their final destinations from there. With a BRT system, these people will no longer have to travel through the city to reach their final destinations.
The Rea Vaya BRT in Johannesburg, which is expected to start working in June, will offer three linked services. The largest buses, which can carry up to 90 passengers, will travel only on the specially made bus lanes on the main routes.
Buses, which can carry 60 passengers, will pick up passengers at stations on the main routes. They will also have special bus lanes.
Medium-sized buses, which can carry 32 passengers, will bring people from the outer areas where there is no direct access to the main routes.
Brazil
The BRT buses will run between five o'clock in the morning and midnight. They will operate every three minutes during peak traffic periods in the mornings and afternoons. During less busy periods, they will be available every ten minutes.
The BRT plans have been copied from countries with similar public transport problems. These are Brazil and Colombia in South America where the BRT system is working successfully.
- Mbulelo Baloyi