The 2009 FIFA Confederations and 2010 FIFA World Cup are the two biggest soccer events ever to be hosted by South Africa. Both events are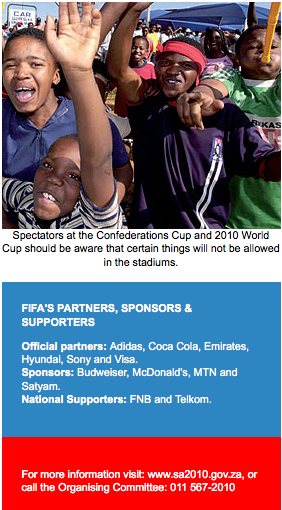 expected to attract millions of soccer fans from around the world. For these events to take place successfully, FIFA has official partners, sponsors and national supporters. They provide funding to make these tournaments possible. They want fans to enjoy the games, but to protect their interests, they have made certain agreements with FIFA.
It is important for soccer fans to know who the official sponsors, partners and national supporters are. This will help them to understand what is expected of them when they watch the games at the stadium.
FIFA logo
The partners, sponsors and national supporters of FIFA are the only advertisers allowed to claim any direct association with the tournament.
This means that other companies or small businesses cannot use the FIFA logo or phrases to market their products during the tournament.
Not allowed
The Confederations Cup and FIFA World Cup are protected events. This means that soccer fans will not be allowed to have or do certain things when they attend matches.
This is done for safety reasons and to protect the interests of the partners, sponsors and national supporters. It is in line with agreements made to them by the Organising Committee.
Clothing
Spectators will not be allowed to enter the stadium if they are wearing clothing showing advertising other than that of the sponsors. Such clothing may also not be handed out in large numbers before the match to attract the attention of the masses. Only the names, emblems and slogans of the official FIFA partners will be allowed on clothing.
People wearing clothing carrying racist, political or religious messages, which can cause any negative reactions will not be allowed in the stadium.
Banners
Carrying banners showing racist, religious or political messages will not be allowed. If soccer fans do this when they are already in the stadium, the match officials have the authority to make them leave the stadium immediately.
Weapons
Weapons or objects like glass or plastic bottles, cans or other small containers that may put people's lives in danger will also not be allowed in the stadiums.
For the safe enjoyment of everyone attending matches, people that are drunk will be banned from entering the stadiums.
- Carol Netshifhefhe