WINNING LETTER
There are different things that can help us succeed in life. You don't have to be rich or belong to a family that has lots of money to be successful.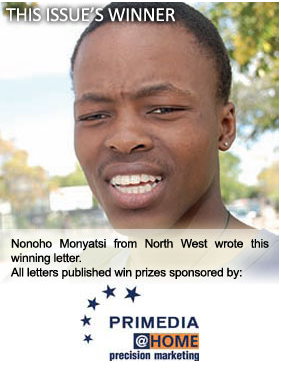 You don't need to attend a fancy school. You can become educated even if your classroom is in the shadow of a tree. Any school is better than no school. All it takes is hard work, commitment, creativity, ability, responsibility and willingness.
As South Africa's teenagers, we must start to dream big and forget about all the wrong things in this world, because they are going nowhere. We, as the country's youth must not forget that we are the leaders of tomorrow. We must love South Africa and constantly strive to make it a better place for all. We must be mindful of our past, be proud of our heritage and focus on our future.
- Nonoho Monyatsi, Vryburg, North West
Don't write off the elderly
I want to tell you a remarkable story about an elderly woman who was almost 80 years old. About a year ago she joined an adult learning programme.
She was very curious and anxious to learn to read and write. She attended the classes on a regular basis without absence and did very well. After her 80th birthday, which she celebrated with her family and friends, she became ill and died.
On the day of the funeral her teacher said in a tribute to her, the only desire she had before she died was to read her own Bible and write her name. The message is: don't write off our elderly persons. Give them a chance because they are not too old to learn. They are wiser than we are and have information that we can use on our road to success.
- Lesley Ruiters, George, Western Cape
Disabled, but capable
Disabled people are faced with challenges and very difficult situations, especially at school and in their communities. Talking from experience, I can say that we are often treated differently from those who are physically strong. But just because I have some part of my body that is not physically fit does not mean that I am mentally ill.
People should remember that even though we are disabled, we are capable of doing things ourselves
- Hlengiwe Fathima Ngobese, Inanda Newtown, KwaZulu-Natal
Free education
A very important thing government is doing for us is giving us free education. But many people don't use this opportunity. I am a young person who has completed my Diploma in Electrical Engineering and I'm grateful for free education.
I live in a small township where there are no jobs. I always get worried about this township because lots of young people leave school. They often end up becoming the victims of alcohol, drugs and crime. Young people should understand that "an empty mind works for the devil." They need to use this opportunity of free education and go to school.
- MT Nkaota, Steynsrus, Free State
Let's take responsibility
All parents wish to pay school fees to help their children get an education. However, recent statistics show that 75 per cent of the books in libraries are never taken out.
So this is a call to the youth to take responsibility for their own studies. They should not blame their parents when they fail at school; they should blame themselves.
To the youth of the African continent let us take responsibility! Let us work hard at our studies so that we can uplift the economy of the whole continent
- WJ Thubane, Babethu, Mpumalanga
Realise the importance of school
In South Africa, there are government schools and job opportunities available every year. So it amazes me that every year the number of school drop-outs rises.
What is happening to our youth? What is happening to our parents? Many parents don't bother about their children's education and success. They expect government to provide their children with free transport, food, and no school fees. Parents must take responsibility and these school drop-outs must realise the importance of school.
- Sfiso Jerry Nhlabathi, Dundonald, Mpumalanga
You have changed our lives
Vuk'uzenzele is the best thing ever that happened under the sun and I feel that it has to be praised. It has changed our lives and made us even proud to be South Africans. Vuk'uzenzele helped thousands of jobless people to put bread on their tables by introducing the opportunities that government is offering. It has made it possible for boys and girls to further their studies at FET colleges and universities by telling us about bursaries and loan schemes. Small businessmen are growing stronger because the magazine introduced the agencies that provide training and that financially help to strengthen their business.
- Johanna Mathiane, Ga-Mushi Village, Limpopo
I'm no longer a naughty boy
I am a 21 year old boy living in a rural area where people my age are committing crime, doing drugs and taking alcohol. I was also like that. But now I have changed by just reading this magazine. I would like to encourage young people to read this magazine because it is informative. I thank Vuk'uzenzele magazine that I am no longer a naughty boy.
- Malose Kgosana, Mokopane, Limpopo
Just be yourself
Growing up can be one of the most stressful adventures in life. The changes we go through are sometimes tough, especially when we enter adolescence. We become exposed to peer pressure that can bring us down, because we want to 'fit in'.
A lot of teens are now regretting the path they took because of peer pressure. Some have become school drop-outs or drug addicts. Others are now HIV positive or pregnant because they could not stand for what they believed in.
Just be yourself, follow your dreams and goals no matter what the next person thinks
- Robert Mokone, Tafelkop, Limpopo
Think long-term
Just because you don't work in an office or report to a manager does not mean you should not take your work seriously. Don't rely on conversations in the taxi to make your name known. Carefully decide what methods you will use to promote your services. Know how much money you can afford to spend on marketing. See the different jobs that you do for different clients as one connected project. This will allow you to think long-term instead of short-term.
Knowing your industry and what you can charge will show that you have the necessary and relevant knowledge of your business.
- Fhulufhelo Mulaudzi, Dzanani, Limpopo