More than 400 South African children are getting an opportunity of a lifetime as player escorts during the 2009 FIFA Confederations Cup. As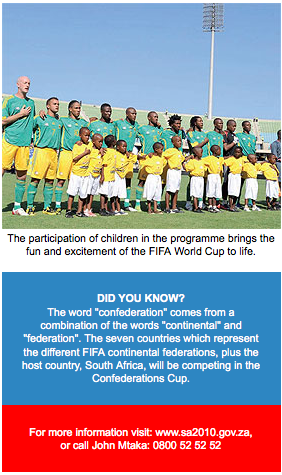 escorts they will walk onto the field with the champions of each confederation team.
Single mother
Gwala is a single mother of four and lives in Jika Joe Informal Settlement in KwaZulu-Natal. She used to rely on the child support grant for her youngest child to feed her family. But the Siyazenzela project changed her life. "Since I started working on the project, I don't have to worry about where my next meal will come from," she said.
The boys and girls chosen to be escorts are part of FIFA's Player 's Escort Programme. They will walk onto the soccer field hand in hand with soccer heroes, watched by millions of people around the world.
The children were chosen from a national competition organised by a well-known restaurant chain. To participate in the programme the children had to be between six and ten years old. They had to write one page about why they believed they should be chosen as player escorts.
Ambassador
Only South African children have been chosen to be Player Escorts during the 2009 Confederations Cup. In June last year, South African national team mid fielder, Teko Modise, was named as the official 2010 FIFA World Cup Escort Programme Ambassador.
Modise's role as ambassador took him to different stores of the restaurant chain to promote the 2009 Confederations Cup and the 2010 World Cup. The first group of children who were chosen appeared in the friendly match between South Africa and Norway in March this year.
The friendly match marked the official opening of the Royal Bafokeng Sport Palace stadium in Rustenburg. It was the first completed soccer venue for the Confederations Cup.
Fun and excitement
Modise said working with children in the Player Escort programme gave him an opportunity to share his passion for soccer with children. It also helped him to give back to the community.
The participation of children in the programme brings the fun and excitement of the FIFA World Cup to life.
Win in Africa with Africa
The "Win in Africa with Africa" Player Escort Programme marks the first FIFA world event to be held in Africa.
During the 2010 World Cup finals, 1 408 children from around the world will be escorting players onto the pitch.
The South African children chosen to be player escorts will travel to the soccer matches with parents and guardians. Children from other countries will be flown to South Africa. Air fares and accommodation costs will be paid by the restaurant chain sponsoring the programme together with FIFA.
- Mbulelo Baloyi