Dusty soccer fields for communities near the World Cup host cities will soon be a thing of the past. This is due to FIFA's World Cup legacy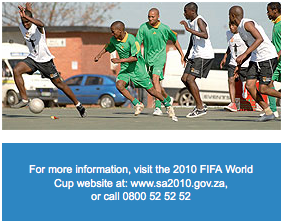 programme. A new stadium with an artificial soccer pitch will be built in Orange Farm near Johannesburg. This is only one of many similar projects that will leave a lasting legacy long after 2010.
The Orange Farm stadium forms part of FIFA's legacy programme. This programme highlights the first ever World Cup on African soil.
It aims to develop and promote grassroots soccer in Africa. The legacy programme is also part of a bigger FIFA plan to help build a new generation of soccer players.
Thirty artificial pitches have already been completed in other African countries.
African soil
The rebuilt Orange Farm stadium boasts change rooms, training lights and security fencing. It will also get a clubhouse and an office to be used by the local football community.
A total of 27 similar pitches, three in every province, are planned for townships and rural areas. They are all part of the 2010 World Cup legacy programme and the National Lotteries Trust Fund.
So far, the first nine pitches have been approved.
Training
Last year, the 2010 Organising Committee opened one of these football pitches in South Africa in KwaZulu-Natal. The Wadley Stadium in Edendale Township near Pietermaritzburg is one of the pitches to be used for training purposes during the 2010 World Cup.
First National Bank, one of the sponsors for the FIFA 2010 World Cup, donated funds to rebuild the Wadley Stadium and the artificial pitch.
Youth
The artificial pitches in all the provinces will be aimed at serving the youth. They will be located next to schools or public institutions and will form part of a three-year programme.
Organising Committee Chief Executive, Dr Danny Jordaan, said the artificial pitches would play an important role in improving and promoting soccer development in rural areas.
Host stadiums
Other projects besides the artificial pitches, will also leave a lasting legacy after the 2010 World Cup is over.
These include the 2010 host stadiums as one of the biggest legacies of the tournament. All these stadiums comply with FIFA regulations.
It is the first time in South Africa's history that new soccer stadiums are built for soccer only instead of for soccer and rugby.
Training stadiums like the Rand Stadium and Orlando Stadium in Johannesburg will also contribute to the development of football in the country.
- Mbulelo Baloyi