The Kha Ri Gude (Let us learn) mass literacy campaign has made huge progress since it started last year. The campaign has exceeded its targets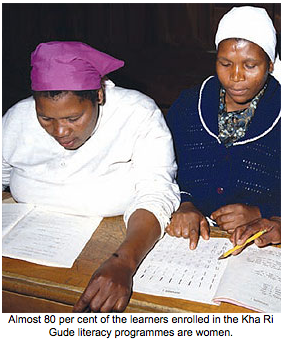 in almost all provinces - especially in KwaZulu-Natal, the Eastern Cape and Limpopo. The campaign, which was rolled out as a pilot in 2008, enrolled 360 000 learners countrywide. Nearly 80 per cent of the learners enrolled are women and 65 per cent of the volunteer educators are younger than 35 years.
Government has set aside R6,1 billion for the campaign over the next five years to enable 4,7 million South Africans to achieve literacy by 2012. The campaign has made an important contribution to promote literacy among communities. It has made use of structures like traditional leaders, councillors, faith-based organisations, community organisations dealing with the disabled and the aged. Through the campaign, volunteers from poor communities are provided with jobs which help to reduce poverty.
- BuaNews